Images: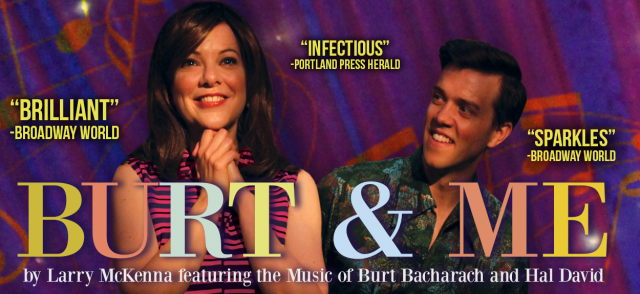 Review:
Do you think a love story set to music is a good way to start a summer season of theater? That's what the folks at Florida Studio Theater decided, and the audience of which I was a part certainly agreed. In this instance, the music is by Burt Bacharach with lyrics by Hal David and how they enriched the life of a Pennsylvania guy who's a fictional representative of Bacharach fan and author Larry McKenna.
Jordan Ahnquist immediately connects with his portrayal of Joe Madsen, a high schooler who chooses music over sports and brings his single father George (Michael Marotta, kind and caring) along with him on a lifetime of love for Bacharach's music.
"Do You Know the Way to San Jose?" starts Jordan's journey toward teaching music and the other love of his life, Jillian Louis's wholesome and sweet-voiced Lacey Turner. It's at its peak at a Prom-time "Night to Remember" when it seems they'll go on "Forever, Forever."
From high school on, Joe is bolstered by his pal Jerry (a comically brash Nick Anastasia). He has a way to go to attract Stacey Harris sophisticated Sally, who guides Lacey. Joe and Lacey are backed up through the years by their singing and dancing pals (including Matthew Scott Robertson and Savannah Sinclair), because "That's What Friends are For."
Because of a physical distance (in college) and loss of touch, the lovers are separated for a time, but can "The Look of Love" fade forever? While that question of "I'll Never Fall in Love Again" keeps coming up, the audience is treated to a number of other memorable Bacharach songs. The choreography is particularly impressive for "Raindrops Keep Falling on My Head" — so well-costumed with the three couples in yellow slickers with umbrellas to match.
Jason Cannon's direction emphasizes author McKenna's emphasis on "What the World Needs Now is Love Sweet Love." Swift scene changes are another fine Cannon contribution. The onstage band truly backs up the actors, never competing with them. Jeff Dean's set features a background of appropriate song sheets and well-placed piano key decorations. Lighting and costuming join in creating each era of the story.
If you think a sweet love story told in clean, appropriate language to original, classically modern music isn't as attractive to young people as to Sarasota's mostly older population, you haven't witnessed them—as I did leading a standing ovation at Florida Studio Theater.
Cast:
Jordan Ahnquist, Nick Anastasia, Stacey Harris, Jillian Louis, Michael Marotta, Matthew Scott Robertson, Savannah Sinclair; Band: Hunter Brown, Tony Bruno, Keith Greene, Sean Tillis
Technical:
Music Director: Brian Victor; Musical Arrangers: Vince DiMura w/additions by Zach Wiseley, John Daniels, & Tom Fosnocht; Set: Jeff Dean; Lights: Thom Beaulieu; Costumes: Sarah Bertolozzi; Sound: Thomas Korp; Stage Mgr: Roy Johns