Images: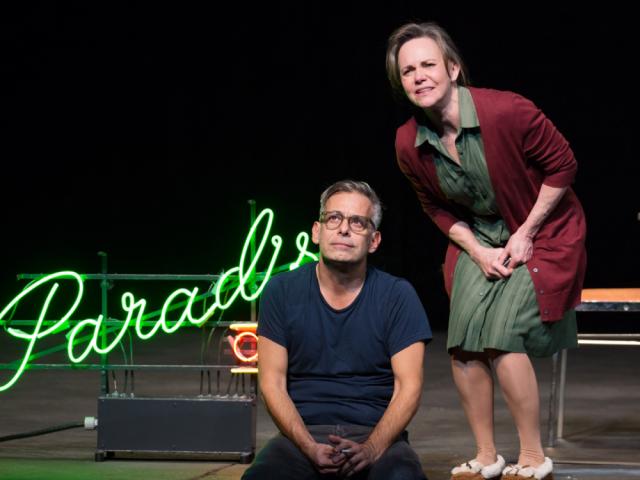 Website:
glassmenagerieonbroadway.com
Review:
It seems like as soon as the curtain comes down on one production of The Glass Menagerie, another revival out there is working its way to Broadway. Maybe it's because there was a decisive revival of Tennessee Williams's haunting play on Broadway with Cherry Jones, Zachary Quinto, and Celia Keenan-Bogden just four years ago, and two productions before that since 2005. Now, however, at the Belasco Theater, director Sam Gold has a minimalistic slant on the poetic memory play.
With Adam Silverman's house lights up, Tennessee Williams' alter-ego, Tom (Joe Mantello) walks on a stage, stripped-down by Andrew Lieberman. Industrial-style shelves on one side hold props and a plain table and some chairs. On the other side sits a gramophone and old records. Says Tom, "I give you truth in the pleasant disguise of illusion."
Sam Gold, who directed an outstanding off-Broadway production of Othello earlier this season at the New York Theater Workshop, dives into the stark realism and stay there. Williams's poetic illusions like a film over reality seems lost on that wide, brick-walled space.
Questionable includes casting Mantello (The Normal Heart), as the play's narrator and complex son of domineering mother, Amanda (Sally Field). It's a wrong note because Mantello's gray hair is jarring for the role of a son who looks more like he could be Amanda's husband. Admittedly, this can work if you keep in mind that the play is told through Tom's memory. The plot, however, reverts back to 1937, when we see young Tom struggling with his suffocating mother, being protective of his older sister, and living with both in a shabby apartment. They're all dependent on his paycheck from his grim job at a shoe factory, but these actors seem a disparate trio.
The young woman, Laura, is played with effective sensibility by Madison Ferris, an actress confined to a wheelchair. This suggests that Laura's social withdrawal and her intense shyness is due to the wheelchair, rather than her insecurities. Although her mother refuses to call her "crippled," insisting she only has a "little disability," the young woman is as emotionally handicapped as the actress playing her here is physically handicapped. Again Mantello looks and acts more like her older, rather than younger brother, as the playwright meant him to be.
As Amanda, Field is properly exasperating as the fiercely driving mother determined to have her daughter settled. As her mind whirls with schemes for Laura's future or Tom's strange nocturnal wanderings, there is a hint of the long-ago coquette. Her mind drifts to the past, when she was a popular southern belle awaiting "gentlemen callers." She expects her withdrawn daughter to expect callers and charm them as she once did. This becomes evident when Amanda persuades Tom to bring home a nice man from work for dinner, a "gentleman caller," so to speak, for Laura. We see how delusional she really, greeting the guest in a girlish pink tulle dance dress and lightly flirting with him through the evening. Meanwhile, Laura is terrified to answer the door, cannot join them at the table and retreats to the parlor to polish her fragile menagerie of glass animals.
Played by Ferris, Laura is not as delicate as usually depicted. While she placates her mother, she also rolls her eyes and mouths her mother's familiar stories. She forcefully drags herself in and out of the wheelchair, indicating that she is fairly capable. She even becomes amiable, if not charming, with the gentleman caller, who is played by an outgoing Finn Wittrock, and when you watch them dancing, both on their knees, the scene is quite touching.
Yet when the guest admits he is engaged to another girl and will not be calling again the following Saturday, the family dynamic, as fragile as Laura's glass menagerie, crashes apart. Amanda explodes angrily at her son, Laura withdraws in agony, and Tom finally walks away, haunted through his life by guilt and memories.
While director Gold's new view of The Glass Menagerie is innovative, his vision is not for everyone. However, author Williams acknowledged the viability of changing theater and may well have appreciated Gold's vision. "The thing about theater is it's a constant evolution, or should be. It's a living and breathing thing."
Cast:
Sally Field (Amanda Wingfield), Joe Mantello (Tom Wingfield), Finn Wittrock (Jim O'Connor), Madison Ferris (Laura Wingfield)
Technical:
Set: Andrew Lieberman; Costumes: Wojciech Dziedzic; Lighting: Adam Silverman; Sound: Bray Poor; Stage Manager: Martha Donaldson
Miscellaneous:
This review first appeared in CityCabaret.com, 5/17