Images: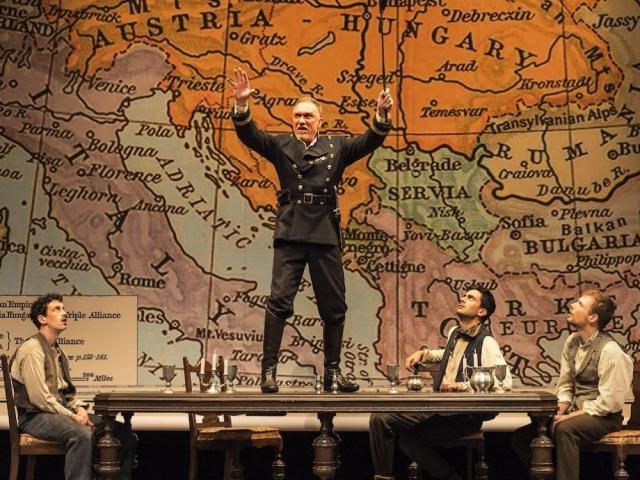 Review:
History begins in tragedy and ends in farce. Rajiv Joseph builds his new play, Archduke, on that truism, turning the story of the 1914 assassination of Austria-Hungary's Archduke Franz Ferdinand and his wife, Sophie, into a loony comedy worthy of The Three Stooges. The play, which was commissioned by CTG and is now in a world-premiere run at the Taper, tries to get serious as it trundles along, only to be undone by its less-than-believable plot and by its insensitive director, Giovanna Sardelli, a charter member of the "Loud and Louder" school of performing.
The main thrust of the play deals with three young Serbs (very loosely based on historical characters), Gavrilo (Stephen Stocking), Nedeljiko (Josiah Bania), and Trifko (Ramiz Monset), who come under the influence of a zealous army Captain (Patrick Page), who persuades them to become martyrs for the cause of Slavic unification. Like an ISIS ideologue turning recruits into suicide bombers, the bombastic Captain brainwashes the teenagers and convinces them— Gavrilo, anyway — to fire shots at the royal couple when they arrive on a state visit to Sarajevo. This was the brutal act that supposedly triggered WW I.
Problem is, the three teenagers are painted so broadly, they come off as caricatures, not humans. They also speak with American accents and spout anachronisms ("focus, man, focus" and "hey, guy"), as does the doctor who treats them for TB (Todd Weeks). Only one character, a chubby maid called Sladjana (Joanne McGee), speaks with a Serbian accent. The inconsistency is jarring.
The strongest actor on stage was Page as the monomaniacal, murderous Captain, but he disappears in the last part of the play, taking much of its strength with him, though, of course, Joseph's implied point is that leaders always hang back in battle, leaving the killing and dying up to the young. Gavrilo's realization of that truth — that he has been exploited by the Captain (and betrayed by the doctor), comes too late to prevent him from firing his weapon. That's the tragic note the playwright wants to sound, but it unfortunately falls flat and has little resonance.
Anyone looking to find a more worthy take on the origins of WW I should search for a film called "Sarajevo." It premiered here in L.A. at the 2014 Southeast European Film Festival and can now be found on Netflix. A German/Austrian co-production, it is everything Archduke isn't: mature, provocative and deeply moving.
Cast:
Josiah Bania, Joanne McGee, Ramiz Monsef, Patrick Page, Stephen Stocking, Todd Weeks
Technical:
Set: Tim Mackabee; Costumes: Denitsa Bliznakova; Lighting: Lap Chi Chu; Sound/Music: Daniel Kluger; Fights: Steve Rankin; Dramaturg: Joy Meads