Images: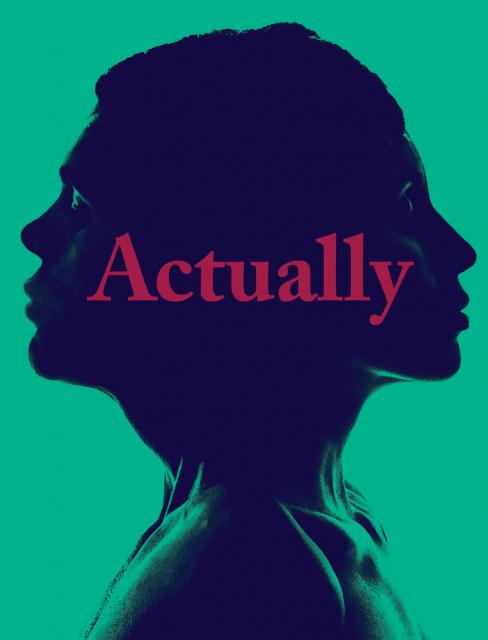 Company/Producers:
Geffen Playhouse / Williamstown Theater Festival
Theater:
Geffen Playhouse - Audrey Skirball Kenis Theater
Review:
Did he or didn't he? That's the question that lies at the heart of Actually, the two-character play by Anna Ziegler which is having a world-premiere run at the Geffen Playhouse (to be followed by a co-premiere at the 2017 Williamstown Theater Festival). In Ziegler's tight little drama, the issue of campus date rape gets an airing. Samantha Ressler takes on the role of Amber, an 18-year-old motor-mouthed freshman at Princeton University who accuses a fellow-student named Tom of raping her at a wild dorm party. But is it really rape? Amber, who is white and Jewish, admits at a college hearing that she willingly, if drunkenly, went to bed with Tom (Jerry MacKinnon), a tall, black music major who was equally inebriated. This followed some hours of uninhibited dancing, during which she ripped off her blouse and stripped down to a tank top. After being provoked like that, is it any wonder why Tom had sex with her after she came to his room and crawled into the sack with him?
Ziegler would have us believe that he should have asked her flat out whether it was okay for him to penetrate her. "Did you actually ask permission?" asks one of the questioners at the hearing. The befuddled Tom, who is otherwise highly articulate and intelligent, can't quite answer the question. Neither can the equally ditsy Amber. As a result, he could be kicked out of Princeton.
Actually calls to mind another campus play about gender politics, David Mamet's Oleanna, but where the latter drama had an unsettling but believable conflict, Actually fails completely in that regard. What the play does have going for it, though, is the superb acting of MacKinnon and Ressler, who have remarkable chemistry together, even though they've been directed to not speak or even look at each other much. Instead, they talk directly to the audience and connect strongly that way.
Working on a bare stage with only two chairs as props, the actors, aided greatly by Lap Chi Chu's subtle, ever-changing lighting scheme — and by Rafaeli's taut, sensitive direction — work some miracles up there, turning Actually's dross into gold.
Cast:
Jerry MacKinnon, Samantha Ressler
Technical:
Set: Tim Mackabee; Costumes: Elizabeth Caitlin Ward; Lighting: Lap Chi Chu; Sound: Vincent Olivieri; Production Stage Manager: Elizabeth A. Brohm; Dramaturg: Amy Levinson