Images: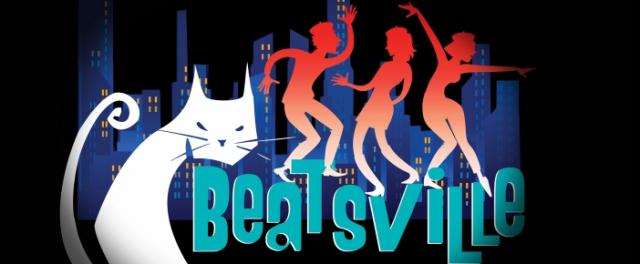 Company/Producers:
Asolo Repertory Company w/Seattle's 5th Avenue Theater
Theater:
Florida State University Center for the Performing Arts - Mertz Theater
Review:
In its world premiere, Beatsville seems a take-off on a Roger Corman movie wedded to a diminished Big Cafe-Shop of Horrors stage play set to rhymes encased in a mix of be-bop and sort of jazz-swing. It's set in a Greenwich Village basement coffee house in 1959 frequented by pre-hippie hipsters dressed in black with white and wearing berets more suited to French existentialists. It's a satire but of what?
Beatsville is definitely not a realistic portrayal of a significant time, place, people, and a movement of theories or attempts (sometimes successful) at a new freedom of conduct language, viewpoints, and attitudes. So where has satire to go? One wishes for the creators of Carol Burnett shows who were good at kidding specific times and mores but with specific targets and real or implied remedies.
Still, Beatsville seemed to score a hit with much of its opening night audience — mainly for the musical numbers which were accomplished with verve. The best of the show is the talent of cast members and the onstage musicians.
Sultry Cayman Llika as Natasha has a great voice whether singing or telling the story she'll work to enact in getting Walter, a shy busboy, to succeed in establishing murderous anarchy among the Beats. She's abetted by caricatures of caricatures in the persons of swishy Claude I (Charlie Johnson) and Claude II (Connor Russell), who act as her devil's disciples.
Hero Max Crumm wins sympathy as Walter, who wants to be cool and accepted. He falls for Lauren Marcus's naive Carla, a wealthy suburbanite who shares Walter's ambition but isn't quite as lacking in talent, at least musically. Walter gets fame as an artist when he accidentally kills his landlady's cat. To hide the killing, he covers it with clay. Found like a sculpture, it's praised by Brandon O'Neill as reigning Beat poet Brock (who's not up to Ginsberg's "Howl" or Corso's despair or Rexroth's analytical ability).
With Walter, one killing and sculpted cover-up leads, "Suddenly Seymour"-like except unintentionally, to another. Walter becomes a success as a desired artist and also romantic object. Sarah Rose Davis' Betty expresses definite interest in him.
As Uptown sensation Alice, Billie Wildrick, especially in her vulgar sexual come-on "Gas Me" toward Walter, could be mistaken for Jayne Mansfield in "Will Success Spoil Rock Hunter?"
Ann Morrison proves versatile in several short roles but shines at length as Walter's landlady, searching for her cat. Likewise, Kevin Pariseau holds several posts well, notably as a Detective. Clifton Oliver adds diversity to the scene as African-American Thelonious, though the role's a bit underwritten.
Andrew Chapelle manages to put mystery into Beatnik Lou, an undercover narc and blends into other short roles after the cop is killed. Michael Thomas Holmes, as owner Leonard of the coffee hangout, constantly complains about lack of customers and Beats who stick around all day on a single espresso. Yet few patrons other than the regulars are ever seen, so why does he quickly hire new arrival Carla?
David Gallo's stand-out set uses a turntable to show the cafe outside, then its huge inside with colorful paintings and "stuff" wall to wall and ceiling to downstairs floor, and then Walter's bare brown-hued pad. In a wedge during transitions to these places sits the trombonist David Pruyn, covering the sound of the moving platform with jazz as if Beat artist Charlie Parker.
There are 18 songs in the Premiere Program, but two had been excised during Previews before opening night. In a program insert, though, were an additional reprise and a "Finale" not listed previously. Director Bill Berry has been adamant about using early audience reaction to edit the musical. It is almost certain to be honed further before traveling to Seattle, and maybe further there in a bigger venue. Still, the satire would benefit from being less heavy-handed and a lighter touch wouldn't hurt either the frame or some of the swing-song music plus lyrics.
Cast:
Max Crumm, Cayman Ilika, Charlie Johnson, Connor Russell, Sarah Rose Davis, Billie Wildrick, Clifton Oliver, Taryn Darr, Andrew Chappelle, Brandon O"Neill, Michael Thomas Holmes, Lauren Marcus, Kevin Pariseau, Ann Morrison; Musicians: Jon Berger, Nick Bruno, Tom Ellison, Judi Glover, Troy Messner, David Pruyn, Bill Swartzbaugh; Swings: Scott Kuiper, Kelly Elizabeth Smith
Technical:
Musical Director: Kat Sherrell; Orchestrations & Vocal & Dance Arrangements: Steve Orich; Set: David Gallo; Costumes: David C. Woolard; Lights: Mike Baldassari; Sound: Justin Stasiw; Hair,Wigs: Michelle Hart