Images: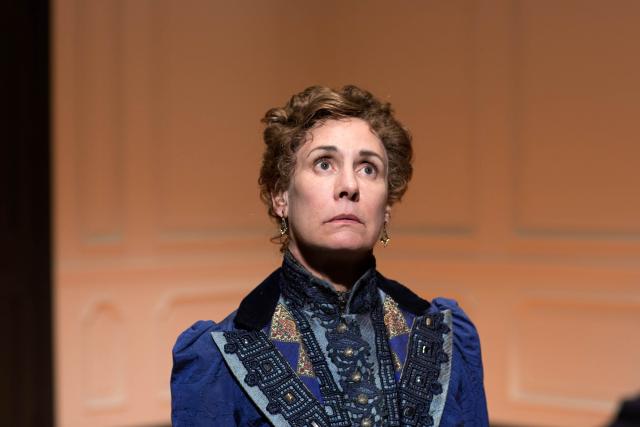 Company/Producers:
Scott Rudin, Eli Bush, Barry Diller, Carole Shorenstein Hays
Review:
A Doll's House, Part 2 is not so much a sequel as a modernized view of the dynamics of the Helmer family. There are anachronisms aplenty scattered throughout, in case we miss the point. There's a square box of Kleenex on the table, a water bottle stuck in a bag, children are called "kids," the heroine sits with her legs spread, and there's quite a bit of cursing. This all goes to point us in the direction of this ain't your grandmother's Doll House.
It's 15 years after Nora's famous door slam. Laurie Metcalf enters to applause, as do the other actors. She's dressed in an obviously expensive blue ensemble. It's clear that Nora has done quite well for herself. Metcalf is easy on the eyes, very poised, and her Nora is extremely self-confident. She's also funny, and her partner in laughs is the always wonderful Jane Houdyshell as Anne Marie, the housekeeper. Anne Marie informs Nora that Torvald has disposed of anything that reminded him of his errant wife. While the maid, who was like a mother to Nora, is happy to see her mistress has returned, she also has deep resentment. She's raised the children in Nora's absence and all but abandoned her own child in the process. She excoriates Nora on what she'd done to Torvald. He'd felt totally adrift, scorned, shamed, devastated.
Chris Cooper is dapper and handsome as Torvald. His shock at seeing his ex again is evident; he hasn't forgiven or forgotten and can't control the pain in his eyes. Cooper is a more modern-day Helmer; he speaks with a slight drawl, and doesn't affect a stiff posture. It's a treat to have him back on the boards in New York; his Broadway debut was nearly 40 years ago. (Cooper is best known as one of our finest film actors; one of his best movies is "Lone Star," which he oddly neglects to mention in his bio.)
Last but not least in the quartet of characters is Nora and Torvald's daughter, Emmy. Condola Rashad has an abundance of her mother Phylicia's beauty, and a style all her own. At 30, she's racked up an impressive array of credits, both on screen and on stage. Her Emmy is sweet and vulnerable on the surface, but underneath, she's every bit Nora's daughter. For Emmy, her main concern isn't for a mother she doesn't even remember but to keep her own good name so she can marry the banker to whom she's engaged. Hey, mom married a banker…and we all know how that turned out. Emmy offers a unique solution to Nora's problem.
Nora has gotten herself into a pickle, and she wants both Emmy and Anne Marie to plead her case to Torvald. Her feminist books have sparked consequences, and an aggrieved judge is threatening to expose not just her real name, hidden behind her writing pseudonym, but also the fact that despite her railing against marriage, she's actually still a married woman. It seems that her ex isn't her ex after all. Torvald never got the divorce; he didn't see the point. If he gets it now, he risks damage to his reputation, since he let everyone believe that Nora died. Nora has the option of apologizing and taking back everything she's championed, but that she'll never do. Emmy's solution is to have her mother declared legally dead; she's got the contacts to make it happen.
What will Nora decide? The thrill in this production is watching four fine performers interact, and to see each shining in turn. And it's strangely satisfying that at last, Torvald gets to be the one to slam that door.
Cast:
Laurie Metcalf, Chris Cooper, Jayne Houdyshell, Condola Rashad
Technical:
Sets: Miriam Buether; Costumes: David Zinn; Lighting: Jennifer Tipton