Images: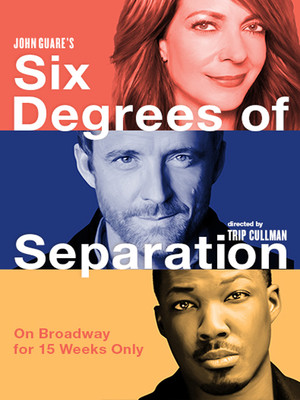 Company/Producers:
Stuart Thompson, Louise L. Gund, Tim Levy, John Breglio
Review:
Why Six Degrees of Separation cannot be updated to today: We can google anything, and within moments, the central "My father is Sidney Poitier" lie would be unmasked; everyone has a cell phone, so it's safe to assume the victim of a mugging would call for help (or, we hope, someone else would); AIDS would be a top concern; and most of all, in a post 9/11 world, we would never be so foolish as to let a stranger into our homes and lives just because he claims to know our kids. So, we must put all of this aside to experience this latest production.
First and foremost, the actors are top rate. As "Paul Poitier," Corey Hawkins brings a charm, sensitivity, and yes, sincerity which help us to understand how the educated, and supposedly sophisticated, New Yorkers are turned into marks. He stumbles into the apartment of Flan (John Benjamin Hickey) and Ouisa (Allison Janney) Kittredge, with blood on his shirt and a ready tale of being mugged. He went to school with their Ivy League kids, and when he needed help, he came to their home. They take him in, get him cleaned up and changed ("You gave him my pink shirt? I loved that shirt!" later screams their brat of a son.), let him cook dinner, and insist he sleep in their absent child's room.
Meanwhile, Flan, an art dealer, and Ouisa, his clever but needy wife, are trying to charm a wealthy friend into going in on a very expensive deal with them. Paul enchants them all, the money is promised, and the Kittredges are giddy with relief. It's only when a nasty and aggressive male hooker is found with Paul that the penny drops. There's a rather ugly scene of the naked prostitute running around the apartment taunting the couple and jumping on top of Flan.
How could Paul do this to them? Well, for one thing, he used the $50 Flan generously gave him to pay the rough trade for his peccadillo. Flan and Ouisa finally get it; they've been duped. But what can they do about it? They contact the police, who wearily tell them there's no charge because they willing took Paul in and because nothing is missing.
Not surprisingly, others have also been scammed. The lure of meeting a celebrity, and possibly appearing in a movie version of Cats(!) is just too much for these strivers. Sidney Poitier will be coming to dinner at our house! The excitement clouds their judgment. Ouisa enlists her obnoxious children and the horror show of a doctor's son to get to the truth. How does Paul know all he knows? There must be a prep school link…and there is.
Lest we feel sorry for Paul in his quest to deceive, he does something even more unforgivable. He seduces a fledgling actor who's clearly involved with an adoring young woman, and leaves him confused and guilty. The resulting suicide points up how callous and totally self-involved Paul is. In spite of all he's done, he still calls Ouisa to help him, and she agrees to do so. Is she so desperate for love of any stripe that she's willing to run to aid a man who's clearly a sociopath?
This is an excellent production. The blood red walls, revolving Kandinsky overhead, and especially Ouisa's glorious clothing are all pitch perfect. The actors are outstanding. But nowadays, we're all just much too intelligent to be taken in by a slick narcissist who boasts, seduces, and has no regard for telling the truth. Right? We are, aren't we?
Cast:
Allison Janney, John Benjamin Hickey, Corey Hawkins
Technical:
Sets: Mark Wendland; costumes: Clint Ramos; lighting: Ben Stanton