Images: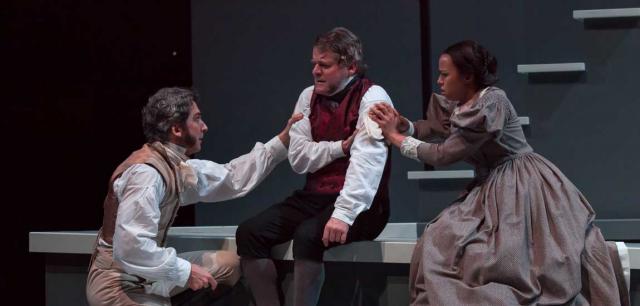 Company/Producers:
Milwaukee Repertory Theater
Review:
This delightfully updated version of Jane Eyre, Charlotte Brontë's Victorian classic, is one of the most wonderful plays in a season filled with wonderful plays. Polly Teale's adaptation, while not new, has been launched with charm, wit and polish by the Milwaukee Repertory Theater in its largest performing space, the Quadracci Powerhouse. The play was developed by the Rep in conjunction with Cincinnati Playhouse in the Park.
This production, as in the ground-breaking novel, begins with Jane's lamentable childhood. An orphan, she receives rough treatment from the relatives raising her. She tries to mind her manners but has a smoldering "restless" spirit waiting to get out. She eventually erupts in a fit of rage at the unkindness of one of her male cousins.
Even before this milestone event, Jane Eyre (the production) runs into trouble. The audience is expected to take in a lot, including a minimal set that is built around a series of switchbacks and leads to a bright red room at the top. Our Jane (played winningly by Margaret Ivey) rarely stands still. She is constantly roaming up and down the set. That she is African-American may be making a social statement, but in terms of her behavior and dress, she differs not a whit from a typical Caucasian version of Jane. (However, it does give a slightly different meaning when she is fighting back with her young cousin, as she calls him a "slave driver.") Also, the set itself becomes a percussive instrument. Actors who are barely offstage beat out the rhythm of Jane's heart.
Once Jane is condemned as a troublemaker, she is sent away to school. Her aunt, (played convincingly by Tina Stafford), tells the school master that it is her preference that Jane spend all holidays "at school." It's clear she wants nothing more to do with Jane (and she almost gets her wish).
The "trouble" with this Jane Eyre is how it represents Bertha, a madwoman married to a man who Jane comes to love. At first, we don't know what to make of this creature, who seems like a Caucasian version of Jane. The two figures make identical movements as they clamber up and down the ramps. One wonders if Bertha is somehow related to Jane. The striking difference is that Berta voices what Jane cannot. It's not clear whether her voice can be heard by others. Does she exist in Jane's imagination? In any case, a vivid fight ensues between these two young women when a disobedient Jane and Bertha (played with passion and conviction by Rin Allen) are locked up in the red room at the top of the stage. Jane wins, hollering "shut up! Shut up!"
There are differences between the two. While Jane wears an unattractive grey dress with a starched white collar, her hair drawn back in a simple bun, the red-haired Bertha is allowed more independence. She wears her hair down, and her outfits allow her body to stretch out. Eventually, she puts on a flame-red dress that has an uneven hem, with strips of jagged fabric. This anticipates a scene in which she torches the mansion.
Even as the audience is trying to get a grasp on who this character is, Bertha starts spending most of her time in the red room. However, right before the Act I curtain, we see her break free in a breathtaking series of movements. (There's no sense in describing it further; readers who have seen this production immediately will know what this reviewer is talking about.)
Later in the play, the willowy figure, unleashed from Jane's ever-present corset, is more firmly identified as Bertha. She now lives upstairs in the mansion owned by Rochester (a handsome, boyish, sometimes-awkward man). He is more secure in giving orders than sharing his feelings. We go through a series of scenes in which he engages Jane, dismisses her, then calls her back, saying "Why are you leaving?" When she reminds him that he basically told her to go, his uncertain mind cannot fathom giving such an order only moments earlier.
Jane continues her work as a governess for a "love child" that Rochester has taken in (played with great enthusiasm by Rebecca Hirota). Again, the plot is making a point: that girls can behave as they wish, only to become "invisible" as they grow up. Hirota's antics gives the audience a reason to laugh every time she's onstage.
But there's no doubt of a romance brewing between Rochester (played by Michael Sharon, a tall, good-looking actor who might pass for an older Josh Groban) and "plain Jane." It is cute to watch their love story unfold, only to be dashed when an intruder at their wedding identifies Bertha as (correctly) Rochester's wife.
In some ways, it is unfortunate that the play champions Bertha as someone who won't fit the mold Victorian society puts on her. This may be true, but Brontë clearly depicts her as a mentally ill woman. By making Bertha seem "wild" rather than someone afflicted by an illness, it lessens the impact of how Victorian society thought about mental illness. Rochester seems to think he is doing Bertha a favor by keeping her locked up at home instead of shipping her off to a sanitorium. He may be right, as life in a lunatic asylum probably would be hell-on-Earth. However, he gave up on her treatment long ago, citing the fact that many doctors couldn't "help" her.
After the sudden news about Bertha, Jane flees to a faraway place. However, she cannot get Rochester out of her mind. She works hard to distract herself by teaching at a school for girls. But a surprise proposal from an unwanted source causes her to flee back to Rochester's estate. She is amazed to find that the mansion has been rebuilt after a fire. Only Rochester's son lives there now.
An old employee who recognizes Jane tells her the details. As Rochester tried unsuccessfully to rescue Bertha, he barely makes it out of the house alive. When Jane finds him, he is blind and somewhat limited in his movements. Jane, who realizes that she can now take the upper hand in this relationship (formerly master and servant), seems delighted at this development. "I like you better this way," she tells an astonished Rochester. She eagerly leans into the task of literally guiding him. Jane, who was told she was ugly for nearly her entire life, is happy to be someone that Rochester cannot see and perhaps pass judgment on.
Cast:
Margaret Ivey (Jane Eyre); Rin Allen (Bertha); Andy Paterson (John Reed, etc.); Christine Toy Johnson (Bessie, etc.); Tina Stafford (Mrs. Reed, etc.); Michael Sharon (Rochester).
Technical:
Set: Kris Stone; Costumes: Rachel Healy; Lighting: Brian Lilienthal; Sound: Jane Shaw.