Images: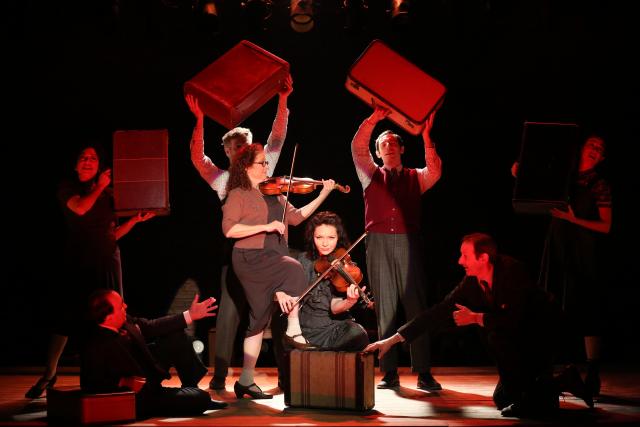 Company/Producers:
Daryl Roth, Elizabeth Ireland McCann & Cody Lassen, in association with Vineyard Theatre, La Jolla Playhouse, Yale Repertory Theatre
Review:
At long last, Paula Vogel, the Pulitzer Prize winning playwright who is now 65, has made it to Broadway. Indecent, her play-within-a-play, encapsulates The God of Vengeance, which was considered so offensive in 1923 that the cast was thrown into jail for obscenity. The controversy revolved around the first lesbian kiss to be performed on Broadway. By today's standards, the same scene is sweet and pure in comparison to the blatant sex and violence we see in the media. That the same-sex couple is portrayed with true passion and love for each other by the superb actors Adina Verson and Katrina Lenk elevates the relationship we see onstage.
Yiddish writer Sholem Asch writes the play as a young man in Warsaw in 1906, and is immediately advised to destroy it. Not only is there the notorious scene between two women, but it also portrays Jews in an unfavorable light, including the smashing of the Torah. Asch decides to take his troupe on tour; in 1907, the play is performed in a Berlin cabaret, and from there, St. Petersburg in 1911, Constantinople in 1914, Bratislava in 1918. Along the way, the players become a family unit.
As the play begins, ten actors sit upstage in silence. When they arrive and step forward, ashes pour out of their sleeves, indicating the passage of years, and foreshadowing the gas chambers of the Nazis. Lemml, the stage manager (Richard Topol) explains to us that we're going to see a play that changed his life. The talented group of actors portray different characters, and the musicians play onstage. This is an ensemble of performers who effortless interact, and who have a real connection with one another and the material. When the play is sterilized to make it more palatable, the actors object. When they are prevented from performing anyplace else, they stage a performance in the attic of a home in the Lodz ghetto.
It's harrowing to appreciate the cast, both as characters and as the actors playing them, and then to see them in line for the concentration camp. This is an echo of the line at Ellis Island, where the assimilation of refugees requires them to speak English, often forsaking Yiddish, their mother tongue. Ash once again pours from their sleeves; no need to question why. Is it also a reference to the playwright, who distanced himself from his play, and became a bitter old man? Audience members must decide for themselves if the homophobia exhibited of old is now ablaze in this country, and just how far the fear and loathing of "the other" will go.
Certain things are beyond doubt; passion for the arts is essential for civilization to thrive; hardships must be countered by hard work; and love is love, wherever and with whomever we may find it.
Cast:
Katrina Lenk, Mimi Lieber, Max Gordon Moore, Tom Nelis, Steven Rattazzi, Richard Topol and Adina Verson
Technical:
Sets: Riccardo Hernandez; Costumes: Emily Rebholz; Lighting: Christopher Akerlind