Images: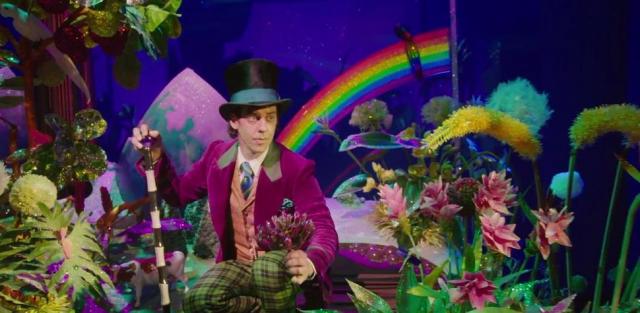 Company/Producers:
Warner Bros. Theatre Ventures, Langley Park Productions, Neal Street Productions
Review:
Roald Dahl was a strange, strange man. He was a leading writer of children's books, but he had a shockingly dark side. This is not immediately evident in the current production of Charlie and the Chocolate Factory. In fact, if you leave after the first act, you'll probably come away humming "The Candy Man" and musing on the fact that Willy Wonka, who owns and runs the best chocolate factory in the whole wide world, is pretty quirky but basically benevolent. The sets are sparse but colorful and evocative, and the costumes are rich and vivid, especially Willy's purple velvet jacket and green plaid pants, and his ubiquitous top hat.
Christian Borle sets the right tone for Wonka. He manages to infuse the character with a certain glee, and not a little malevolence. There's an undernote of sadness, and even desperation. Borle's voice is a glorious, full-bodied baritone. He makes singing appear effortless; song seems to flow from his body with never a wrong note or inflection. He's also gained quite a following, largely because of his role on the cult favorite TV show "Smash."
Charlie Bucket carries a good deal of the show on his narrow shoulders. The role is played by three young actors who alternate in the part: Jake Ryan Flynn, Ryan Sell, and Ryan Foust. (Should the question of the day be if "Ryan" has supplanted "Josh" as the first choice of parents naming their male children? And yes, there are girl Ryans, too.) Our Ryan, Mr. Foust, could not be any more perfect as the super-energized, compassionate, and ambitious Charlie. With reddish sandy hair and a notably fair complexion, he looks like a young Bobby Flay. Charlie doesn't just want the golden ticket which will get him into Wonka's chocolate factory. He needs it to help himself and his impoverished family. When he finally obtains the candy bar which contains the prize he needs, his Grandpa Joe (John Rubinstein) accompanies him to the enchanted factory, along with several other children and their chaperones.
Everyone gets shown around and eats a lot of sugar. So far, so good. But then, that nasty second act. In it, children are killed, and it's actually disturbingly violent, especially since it's all played for laughs. CharlieM.U Charlie show is, of course, based on Dahl's 1964 popular kids' book. It's been adapted for the screen twice, once in 1971, starring Gene Wilder, and again in 2005, with Johnny Depp in the lead. This would indicate that the story has been around long enough for parents to know what they're getting into. And times are different; kids are exposed to lots of mayhem these days, through videogames, TV shows, and presidential elections. On the way out of the theater, I heard one very concerned mom questioning her son on the carnage he'd just witnessed. "Was that okay?" she anxiously asked him. He answered in a totally unconcerned tone of voice. "Yeah, it was fine," he reassured her. So…there you have it. Welcome to the Z generation of 2017.
Cast:
Christian Borle (Willy Wonka), John Rubinstein (Grandpa Joe), Emily Padgett (Mrs. Bucket), Kathy Fitzgerald (Mrs. Gloop), F. Michael Haynie (Augustus Gloop), Ben Crawford (Mr. Salt, Emma Pfaeffle (Veruca Salt), Alan H. Green (Mr. Beauregarde), Trista Dollison (Vio let Beauregarde), Jackie Hoffman (Mrs. Teavee), Michael Wartella (Mike Teavee), Jake Ryan Flynn, Ryan Foust, Ryan Sell (alternating as Charlie Bucket), Yesenia Ayala, Darius Barnes, Colin Bradbury, Jared Bradshaw, Ryan Breslin,Kristy Cates, Madeleine Doherty, Paloma Garcia-Lee, Stephanie Gibson, Talya Groves, Cory Lingner, Elliott Mattox, Monette McKay, Kyle Taylor Parker, Paul Slade Smith, Katie Webber, Stephen Carrasco, Robin Masella, Kristin Piro, Amy Quanbeck, Michael Williams, Mikey Winslow
Technical:
Sets & costumes: Mark Thompson; Lighting: Japhy Weideman