Images: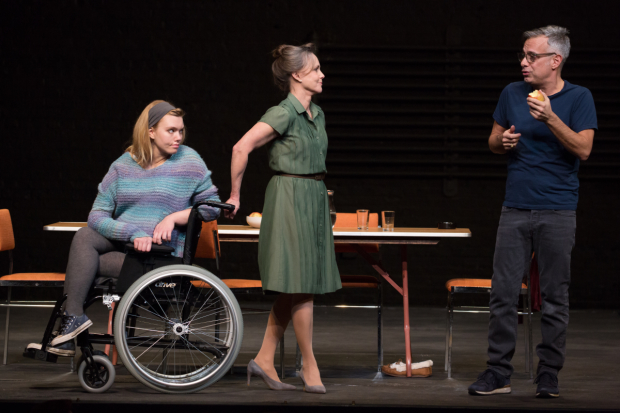 Company/Producers:
Scott Rudin, Lincoln Center Theater, Eli Bush
Website:
glassmenagerieonbroadway.com
Review:
Sally Field should be declared a national treasure. Very few frequent theatergoers haven't seen The Glass Menagerie, many times and in several incarnations. But I doubt anyone has ever seen an Amanda Wingfield like Field. As the matriarch of a family which is barely a step away from poverty, Amanda does what she can to bring in a little money by selling magazine subscriptions over the phone. She is chatty and cheerful during these calls, but underneath, she wants to scream at having to grovel. She spends a good deal of her time reminiscing about her girlhood in Blue Mountain, where she was the belle of every ball. Her children have heard these stories so many times, they recite along with her.
Amanda's moods bounce back and forth, one moment bullying, the next wallowing in the depth of self-pity. Field captures all this and more. This is a woman of steel, as in Magnolias, but steel can bend, and even break under extreme pressure.
Son Tom is her sole source of support; this is St. Louis in the 1930's, and without his little paycheck from the shoe factory where he works, the Wingfields could well be out on the street. And yet, she can't keep herself from nagging him about where he goes every night, and chiding him about his drinking and smoking.
Amanda is often played like a slightly less nutty Blanche Dubois, all honeyed accent, flighty, and flirty. Field is perfectly capable of playing this; when the Gentleman Caller arrives, she's in a pink prom dress; she floats around, and suddenly her accent changes from no-nonsense Midwestern to a molasses-dense Deep South. She visits, but does not live in, the stereotype.
Joe Mantello couldn't be better as Amanda's beleaguered son, Tom. Mantello is now much better known as an award-winning director than as an actor, but this performance proves that he's still equally talented as a performer. The real challenge with Tom is proving to the audience that he didn't just choose to leave his mother and sister in the lurch; he had to get away to survive. The Glass Menagerie is, in Tom's words, "a memory play." Taking advantage of this provides an opportunity for all kinds of incongruities, not the least of which is having the grizzled Mantello described as "two years younger" than his sister. We're given fair warning that what we're seeing is not realistic. This proclamation gives rise to what has turned out to be a major controversy this theater season.
To what extent is an audience expected to accept what's being presented on stage without question? In this production, Laura is played by Madison Ferris, a young actress who's stricken with muscular dystrophy. Much has been made of the fact that she uses a wheelchair onstage, but this is not at the crux of the matter. The wheelchair could be incorporated into the plot pretty quickly. What is distressing isn't about seeing the vehicle onstage; it's that Ferris is being asked to make many movements out of the chair. These involve contortions which look painful and exhausting; at the end of the show, the actress seems completely spent. Only the hardest heart could observe what's happening without feeling heartbreak at the obviously arduous maneuvers. There's nothing amiss about feeling sorry for poor shy Laura. But when we're so disconcerted that our attention is no longer on the production, but rather on the individual playing a character, the fourth wall is shattered, and our willing suspension of disbelief evaporates. I understand the arguments on both sides, but as a theatergoer, I have to say that the wheelchair is fine, but what Ferris has to go through when she's out of the chair doesn't work in service to the play.
We must all make our own decisions about the appropriateness of what's being presented. At one time, interracial casting was unique, and in some cases, uncomfortable. Now, it's rarely even commented upon; if anything, seeing an African-American Juliet fall madly in love with a white Romeo in a recent production made perfect sense. No matter what else may be taking focus in this production, front and center is the great Sally Field giving one hell of a performance.
Cast:
Sally Field, Joe Mantello, Finn Wittrock, Madison Ferris
Technical:
Sets: Andrew Lieberman; Costumes: Woiceich Dziedzic; Lighting: Adam Silverman