Images: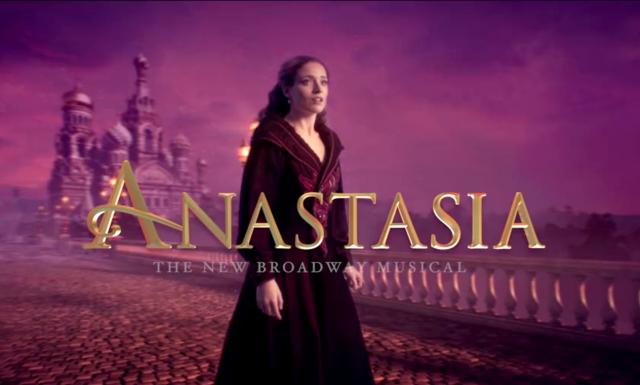 Company/Producers:
Stage Entertainment, Bill Taylor, Tom Kirdahy, Hunter Arnold
Review:
Christy Altomare is a shining star; a true beauty with a soaring soprano voice and real acting chops; who wouldn't believe she's the late czar's youngest daughter? At least, that's the plan, as hatched by the rascally Vlad (John Bolton) and Dmitry (Derek Klena). They're not really bad, as con men go, but they see a chance for a big score when the outcast orphan Anya comes into their lives. She's the perfect candidate for them to prep as Princess Anastasia. They'll My Fair Lady her and get a big reward when they present her to her grandmother, the Dowager Empress (the always divine Mary Beth Peil). But a funny thing happens on the road to Paris. Anya begins to remember things, fancy things, royal things. Wasn't there an elegant lady, dressed all in white, with a big diamond tiara? Wasn't there music playing, and sisters and a brother all swanning around? And what about those voices that haunt her dreams?
hen Anya finally does get to Paris, she blossoms. There's no doubt that within her beats the heart of a princess. She wears the glorious ball gown and jewels as if born to them. And, of course, she convinces her "Nana" to accept her. But in the end, Anastasia must choose between a life of ease with her grandma, or spending her days with Dmitry, whom she's come to love.
This is the latest avatar of the story which won Ingrid Bergman an Oscar back in the day. The animated movie featured Liz Callaway doing the vocals. "Journey to the Past" became a worldwide hit and was nominated for an Academy Award.
At the performance I covered, the audience was vocal and enthusiastic. With any luck, Anastasia really is still alive, and will delight Broadway theatergoers for a very long time to come.
Cast:
Christy Altomare, Derek Klena, John Bolton, Ramin Karimloo, Caroline O'Connor, Mary Beth Peil.
Technical:
Sets: Alexander Dodge; costumes: Linda Cho; lighting: Donald Holder