Images: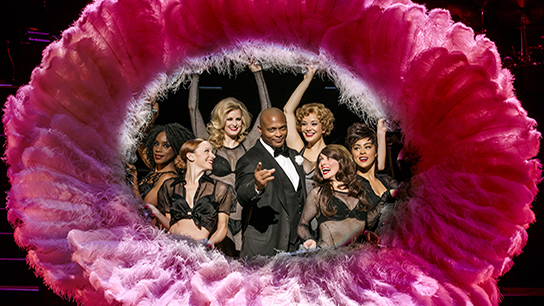 Company/Producers:
Associated Bank Broadway at the Marcus Center; Barry and Fran Weisler
Theater:
Marcus Center for the Performing Arts
Director:
David Hysop, based on Walter Bobbie
Choreographer:
Ann Reinking, based on Bob Fosse
Review:
The city of Milwaukee is a lot closer to Chicago than it is to Washington, D.C., but the musical Chicago is basically a next-door neighbor to the national capital in terms of what it takes to succeed. A solid production of Chicago recently played in Milwaukee as part of its regular Broadway series.
Chicago may be the longest-running American musical in Broadway history, but it seems more relevant than ever. Today's theatergoers cannot help but be reminded of the recent election year. It starts with the very first line, delivered by an unidentified chorine. She chirps that the show is about "murder, greed, corruption, violence, exploitation, adultery and treachery." Where else comes to mind but our nation's capital?
Most of the players have performed at some time or another in the Broadway version of the show, so it's no wonder that they perform capably in the tour. As on Broadway, the tour has basically no set or costumes. Actors — all dressed in black — often sit within view of their audience, waiting for their cue. The largest permanent stage piece is the band stand. For added emphasis, it's framed in gold.
The top-notch musicians certainly play an important role in a show like Chicago, which has relatively little dialogue compared to its musical numbers. All scenes and dance numbers are played out in front of the band. Only a brilliant lighting design (such as this one by Ken Billington) can keep our eyes where they need to be at any given moment.
The show is set in the glitzy, Roaring 20s. Roxie Hart, a good-looking mechanic's wife, is having an affair with a sexy, younger guy. When he tries to end things, she pulls out a pistol and kills him. Although she initially convinces her husband, Amos, to take the rap, he changes his mind when he recognizes what his wife has called an "unknown intruder."
Chicago is less about murder and more about the longing for fame. When Roxie ends up in the joint, she meets Velma Kelly, also a murderess. Roxie knows her instantly, because Velma has been getting newspaper headlines for weeks. When Roxie pays an expensive lawyer, Billy Flynn, to take her case, suddenly she receives the same "star" treatment by the press. This is no different from today's public clamoring for celebrity non-murderers such as Kim Kardashian, Paris Hilton and Katy Perry.
However, these real-life celebrities don't even offer the same entertainment value as their prison-filled cousins in Chicago. Two of the show's best numbers come right at the top: "All That Jazz" and the "Cell Block Tango." In the latter number, we learn what kinds of murders have been committed in the name of love and jealousy.
Although others may disagree, to this reviewer, Chicago is a dance show. The brilliantly inventive choreography of Bob Fosse is perfectly suited for a show as intimate as Chicago. It's clear Fosse took some of his favorite dance moves from the musical, Pippin, another Fosse-choreographed show which debuted prior to Chicago. Fosse is known for clumping dancers together as they slowly move across the stage. The lift of a shoulder or a flutter of fingertips are Fosse trademarks that appear again and again in Chicago.
This production claims the "star power" of former NFL football player Eddie George, who plays flashy criminal lawyer Billy Flynn. When George stands next to the lithe, slinky dancers, he seems gargantuan in comparison. During brief bits of dialogue, he plays well off his two clients, Roxie Hart and Velma Kelly. Thankfully, it's a small part that doesn't require much talent in terms of singing, dancing, and acting. George sings well and manages to execute basic, non-Fosse dance moves. However, he falls short when it comes to selling "Razzle Dazzle," which is one of Billy's big numbers. He does looks fantastic in a tuxedo, however.
Both of the leads, Dylis Croman (Roxie) and Terra C. MacCleod (Velma), have performed in the Broadway version. They are great at differentiating the two characters. Velma is a bit wiser but also more desperate than Roxie. MacCleod's angular, trim body executes Fosse's moves to perfection. Croman (with her male dancers) manages to hold our attention through a long, first-act number, "Roxie."
Another Chicago veteran is Roz Ryan as Matron "Mama" Morton. Walking with a slight limp on opening night, she delivered "When You're Good to Mama" without barely moving an inch. Her big voice was at full power, however.
Finally, a crowd favorite was Paul Vogt as Amos Hart, Roxie's husband. He earned our sympathy as a poor schmuck who couldn't keep his wandering wife away from lovers at home or reporters in prison. This plain, simple guy concedes in "Mr. Cellophane" that his existence is basically ignored by everyone. It's almost as if he still couldn't believe that someone as pretty as Roxie would ever consent to marry him. Vogt earns the audience's sympathy with the best rendition of this song that this reviewer has seen.
Ironically, the fame Roxie once earned by killing someone returns to her once more when she announces her pregnancy. She hopes the prospect of delivering a baby in prison will be enough to earn a jury's sympathy. Although Velma has been upset ever since Billy Flynn took Roxie's case and pushed her to the background, Chicago proves that even murderers are allowed second acts. In this case, Roxie and Velma perform theirs with hats and canes. It may not be the "big time" attention they once received, but hey, at least it's a stage.
Parental:
adult themes, mild violence
Cast:
Dylis Croman (Roxie Hart); Terra C. MacCloud (Velma Kelly); Paul Vogt (Amos); Roz Ryan (Matron "Mama" Morton); Eddie George (Billy Flynn); Brent Heuser (Fred Casely).
Awards:
Set: John Lee Beatty; Costumes: William Ivey Long; Lighting: Ken Billington; Sound: Scott Lehrer; Supervising music director: Rob Fisher; Music director: Rob Bowman; Orchestrations: Ralph Burns.