Images: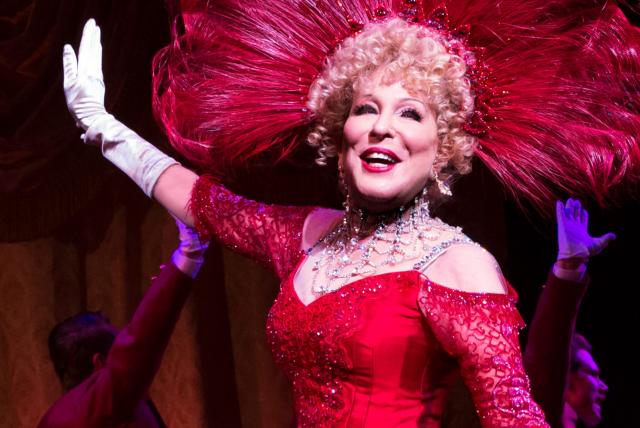 Company/Producers:
Scott Rudin, Roy Furman, James L. Nederlander, Eli Bush
Review:
There's always something so exhilarating about seeing a hit show, and Hello, Dolly! delivers that excitement in spades. This is a lavish production, and it warms my heart to see the money on the stage. Dolly! is a sold out smash, and people begin lining up early in the afternoon just for a chance of being able to buy a ticket, any ticket, for the next performance. And it ain't cheap.
Does the show live up to the hype? Front and center is the Divine Miss M., Bette Midler. She is a consummate entertainer; it's very rare to see an actor get a standing ovation in the middle of a song, but it happened here. Her fans are legion, and the applause Midler received throughout probably added an extra 20 minutes to the running time. True, the voice isn't what it once was; there are some pretty ragged edges. And those amazing dance moves are no more. But we should all have her energy at 71 years of age. And the smile hasn't diminished one iota. I heard one very savvy mom explaining to her child, "Well, imagine that many years from now, Beyonce or Taylor Swift did a theater show. Wouldn't you cheer when you saw her again?" She nailed it.
So much of our love for Bette comes from our own memories of back in the day. The music is so iconic, the titles alone are evocative. "Put on your Sunday Clothes," "Elegance," and of course, "Before the Parade Passes By" and the title tune are now firmly imbedded in our DNA.
There she is, still slim and so attractive, with the tiniest wrists and the daintiest hands imaginable. For this show, she sports spider eyelashes, and a wig of blond curls under a series of splendid hats. The costumes and sets of this production are nothing short of spectacular; they are nearly another character in their own right.
New York in 1885 is converted into a colorful wonderland. As for the show-stopping red dress of the "Hello, Dolly!" restaurant entrance number, set in the world most posh bistro, well, forgettaboutit. Words alone cannot do it justice.
Middler is supported by a top-rate cast, including the ever-versatile David Hyde Pierce as a unique but ultimately appealing Horace Vandergelder. Dolly confesses early on that she's marrying him for his money, but with the twinkle in Pierce's eye, and the undercurrent of loneliness he conveys, it looks like Dolly may have made a love match after all. No way ever the parade has passed her by.
It's always a treat to experience Kate Baldwin's performance. Here, she brings a freshness and a wistfulness to milliner Irene Molloy. When Baldwin sings "Ribbons Down My Back," it's hopeful and heartbreaking at the same time. The delightfully named Beanie Feldstein infuses Irene's assistant Minnie Fay with youthful enthusiasm and an irresistible giggle. The onstage train gets a big hand, too; the New York Central Hudson River RR never looked so good.
The choreography, the sets, the costumes, the co-stars, and the music all go in to making this production the runaway success that it is. But when all is said and done, the reason for mortgaging the farm to pay for tickets to Hello, Dolly! remains the same: Bette, Bette, Bette.
Cast:
Bette Midler, David Hyde Pierce, Donna Murphy (at certain performances), Gavin Creel, Kate Baldwin, Taylor Trensch, Will Burton, Melanie Moore, Jennifer Simard, Cameron Adams, Phillip Attmore, Giuseppe Bausilio, Justin Bowen, Elizabeth Earley, Taeler Elyse Cyrus, Leslie Donna Flesner, Jenifer Foote, Jessica Lee Goldyn, Blake Hammond, Stephen Hanna, Michael Hartung, Robert Hartwell, Amanda LaMotte, Analisa Leaming, Jess LeProtto, Ian Liberto, Kevin Ligon, Nathan Madden, Linda Mugleston, Hayley Podschun, Jessica Sheridan, Michaeljon Slinger, Christian Dante White, Branch Woodman, Ryan Worsing, Richard Riaz Yoder
Technical:
Sets & costumes: Santo Loquasto; lighting: Natasha Katz