Images: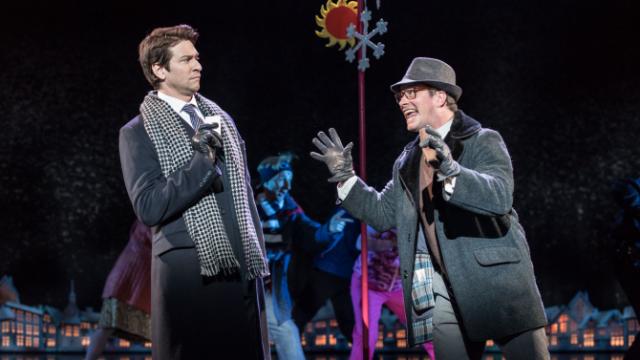 Company/Producers:
Whistle Pig, Columbia Live Stage, The Dodgers, Michael Watt
Review:
Andy Karl gets a huge hand just for appearing on stage. The applause isn't only for his reputation as a performer; in large part, the audience is applauding the guts he's displayed by going on despite a potentially career-ending knee injury.
High hopes have been riding on Groundhog Day and its star. Both the show and the actor won the prestigious Olivier award, and backers are counting on high ticket sales and some Tonys, too. When Karl injured his knee leapfrogging over another actor onstage, all that was put in jeopardy. After resting for a few performances, Karl got back on the boards, an act which was greatly appreciated and celebrated. Fortunately, the show doesn't require any dancing of its leading man, but there's plenty of movement involved. Pulling on trousers several times appeared to be a daunting task; but Karl persevered. A tip of the hat is due the formidable leg brace he wears. At one point, he attempts to woo by showing it off; the audience is in on the joke, and the gag gets a huge laugh.
Groundhog Day is, of course, based on the wildly popular movie of the same name. Weatherman Phil Connors (Andy Karl) is burned out and pretty much fed up with everyone and everything. When he's sent to Punxsutawney, Pa. yet again to cover the appearance of the famous groundhog who shares his name, he's had it. Human Phil doesn't care a whit for the town, the rodent, or the work. He brushes off his new producer, Rita (Barrett Doss) even though she's beautiful, upbeat, and so obviously exactly what he needs. Doss, who brings to mind a young Rosario Dawson, has a terrific voice, and brings a real warmth and spirit to the role.
The first act is so frenetic, it's exhausting. Five turntables all seem to be moving at the same time, lots of people shout and wave banners, and, needless to say, Phil wakes up to the same day every day. The suicide episode is somewhat disconcerting, although many in the audience laughed.
Sections of the production are needlessly vulgar; Phil singing about how many times he masturbated comes to mind. For a show that has the potential to be for all ages of the family, it's senseless and not funny.
The second act is much better. Phil becomes a mensch; he helps people, delivers a baby, and takes piano lessons. He realizes that Rita is not just another conquest waiting to happen; he begins to see in her the type of human being he can become. Most significantly, Phil finally realizes that each day — even when it seems to be the same day — is worth living to the fullest.
Time passes for all of us, and at certain times, we all feel the monotony of everyday existence. Because Phil is able to turn hate into love, boredom into activity, and egomania into caring for other human beings, Groundhog Day is a musical that may well be a show that people want to see again and again.
Cast:
Andy Karl, Barrett Doss, Rebecca Faulkenberry, John Sanders, Andrew Call, Raymond J. Lee, Heather Ayers, Kevin Bernard, Gerard Canonico, Rheaume Crenshaw,Michael Fatica, Katy Geraghty, Camden Gonzales, Jordan Grubb,Taylor Iman Jones, Tari Kelly, Josh Lamon, Joseph Medeiros,Sean Montgomery, William Parry, Jenna Rubaii,Vishal Vaidya, Travis Waldschmidt, Natalie Wisdom.
Technical:
Sets & costumes: Rob Howell, lighting: Hugh Vanstone