Images: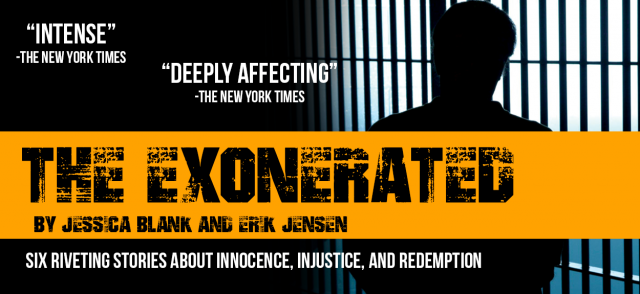 Theater:
Florida Studio Theater - Keating
Review:
A decade ago, I reviewed The Exonerated positively for its power at presenting true cases of people of all kinds wrongly imprisoned. This drama fortunately retains all of its power. Unfortunately, its subject has also retained its currency. Lest we forget, in its strong presentation, we are moved to support efforts to seek justice for those wrongly accused of crimes and punished.
The setting is stark, with dramatic readers occupying well arranged chairs in and from which they speak. As in traditional oral interpretation of literature, the books they hold (though unobtrusively) remind that indeed the script is all important. The script, in fact, comes from a man and a woman author arranging and — when needed — embellishing actual words of prisoners as well as their spouses, police, judges, lawyers, jail and prison personnel.
Articulate Lawrence Evans as Delbert serves as an over-all narrator, appropriate for a poet. His own misfortune: to be taken for an African American Hippie. Another African-American victim, Kenajuan Bentley's David, is appealing since his youth is taken from him. He was spirited away for murder in 1970 because a sheriff facing election needed a conviction. Warren Jackson's Robert also represents being black as being in trouble.

Arrested for killing both parents, David Sitler's Gary represents keenly through his arrest an entire lost family, including himself and his wife (Katherine Michelle Tanner, fine in this and another brief family role). Jeffrey Plunkett dynamically lives Kerry's horror story as a gay man abused by fellow prisoners as well as uncared about by greater society.
The longest drama belongs to Susan Greenhill, famed as Sunny, a woman on death row. Her descriptions of being kidnapped and her disbelief at all of which she and her husband were accused bring tears to more eyes than hers. Susan's pluckiness and emotive power show why she's an FST favorite, where she has especially shone working with director Kate Alexander.
Robert D. Mowry and Kevin Cristaldi take on most of the blood-curdling bad cops and bad legal and prison flunkies and do them wonderful justice. They've even good being rarely good. Karen Stephens has four roles. She mostly impresses as a dismissive Judge and a State Prosecutor.
Changes of place and time are noted mainly in hazy, suggestive back projections that make the audience fill in. No need for the same for Susan Angermann's correct costuming.
Director Kate Alexander has assigned sound and lighting systems well. Nothing distracts from the points she wants her cast members to make, and they oblige.
Cast:
Kenajuan Bentley, Kevin Cristaldi, Lawrence Evans, Susan Greenhill, Warren Jackson, Robert D. Mowry, Jeffrey Plunkett, David Sitler, Karen Stephens, Katherine Michelle Tanner
Technical:
Set: Bruce Price; Costumes: Susan Angermann; Lights: Sarah McGrath; Sound: Jon Baker; Stage Mgr.: Marian Wallace
Miscellaneous:
Sarasota Mayor Willie Shaw introduced the first performance by paying tribute to Florida Studio Theater and its efforts via FST Forums to deal with such societal issues as the Justice System problems and Racism. On April 27, 2017, FST hosts a related panel: "Now I Walk on Death Row," a Conversation with Dale S. Recinella, long a spiritual counselor and Catholic lay chaplain in Florida prisons. The Exonerated is a Stage III Presentation, that is, one with edgy material, which takes up issues for a discriminating audience for shorter periods than presentations in FST regular and cabaret programs.