Images: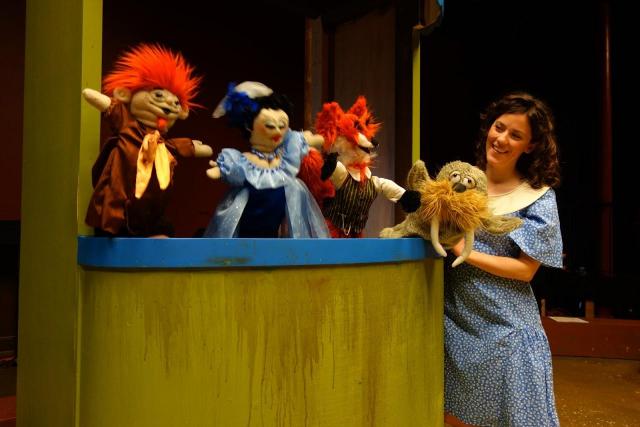 Company/Producers:
In Tandem Theater Company
Review:
Even as the Ringling Bros. & Barnum and Bailey Circus is packing its tents for good, one of Milwaukee's pluckiest theater companies isn't going to let the sun set on the big top — at least not yet. In Tandem Theatre is presenting the rarely staged musical, Carnival. And the bag of free popcorn you get when entering the performing space is only one of many treats in store.
Carnival had a good start when it opened at Broadway's Imperial Theater in 1961 (it was later transferred to a larger house, the Winter Garden). Audiences loved it, critics loved it, and it made one of the two leading actors (the late Jerry Orbach) a star. Anna Maria Albergetti, who played Lili, also drew critical acclaim, but she already was well-known for her film roles. Carnival also gave the world one of its standards, "Love Makes the World Go Round."
After seeing this production, it makes a critic wonder how Lili, an orphan who is continually misused and preyed upon when she tries to join a ragtag traveling circus, could possibly sing about love. But at 16, she means a general love of mankind, not romantic love.
The show is set in 1920s France, just after World War I. One guesses that the predominant feeling among the war's survivors must have been loss, not love. In fact, Lili's defender, Paul, is a wounded vet whose injury cost him his dancing career. It has made him a bitter man. And Lili herself is seeking a new life after her father dies. So even they have been personally touched by tragedy.
Yes, there are bleak moments in the show. However, director Jane Flieller craftily fills every moment possible with laughter. The other circus characters contribute greatly to her vision. One of the show's funniest scenes is when a circus magician calls for audience volunteers and winds up with three hilariously dressed shills. (One of them, Chris Flieller, co-founder of In Tandem and Jane's husband, was born to play a confused little old lady). But the other shills (a couple of hefty roustabouts) keep up their end of bargain, too.
Carnival may seem dated to some, which probably limits the number of new productions. Also, the show's timing might be considered slow for today's audiences. But Flieller manages to circumvent most of Carnival's flaws. For instance, the young, impressionable Lili (in a nicely delivered performance by Susan Wiedmeyer), must mature before our very eyes. Wiedmeyer accomplishes this with seeming ease, gaining wisdom while quietly shedding her innocence. When Lili gravitates towards the musical's famed hand puppets, it's not because she can't distinguish them from real people. Wiedmeyer displays no sense of surprise when she "unmasks" Paul (working as a puppeteer) by swiping a puppet off his hand.
When she first arrives, Lili is mesmerized by Marco the Magnificent and his magic acts. Steve Koehler turns in a memorable performance as Marco, an older man who could almost qualify as a pedophile for his intent towards Lili. Keeping him at bay is the older, sexier Rosalie, who is also Marco's longtime assistant and lover. Beth Mulkerron gives Rosalie a nice edge. She has dealt with Marco's outside flirtations for years, and the injuries to her heart are outlined in a clever song, "Humming." Mulkerron sings this as a duet with the elderly ringmaster (David Ferrie).
In the eyes of these two actors, along with Kohler as Marco, we see the future of this rundown circus. The three yearn for the better days of yore, but they also realize that a downhill slide is coming. At the other end of the spectrum is Paul's upbeat assistant, Jacquot (Nathan Marinan). At least for a while, he is thrilled at the idea of the circus returning to its former glory. It's up to his partner, Paul (J. Keegan Siebken), to burst his bubble.
Of all the show's characters, Paul is perhaps the most emotionally complex. The actor needs to deliver a subtly shaded performance that reflects Paul's disdain for the circus world, as well as his cruelty towards Lili, a girl he secretly loves. The only time Paul (Siebken) comes to life is when he fears that Marco is going to get his hands on her. He never compliments Lili, or even smiles at her. He can only express his real feelings for Lili through his puppets.
In the extraordinarily touching song, "Her Face," Siebken sings of his love for "a grown-up girl with the mind of a child." However, he cannot help feeling that she is watching him, "measuring him" for his worth. In Siebken's hands, Paul is the sad outcast, which no one realizes better than him. "I'm out of step with the rest of you," he admits to Jacquot. It's unclear until the very end whether Paul will watch, silently, as Lili slips away, or proclaim his love to her.
The show is a gloriously interactive experience, from the carnival games and tarot card readings in the lobby to the giant pieces of red and white-striped canvas attached to the walls inside the performing space. A well-practiced quartet forms a ringside band. (At times, one might wish for a more even balance between the band and the singers, but this may right itself in future performances.) Audiences take seats on three sides of the stage, which is a new angle for most folks.
In every onstage movement, Karl Miller's choreography is a joy to watch. This show features the largest cast in the company's history, and it makes the most of these gloriously sequined and feathered group of chorines, clowns, "lion" tamer and stilt walkers.
That Carnival shows the dark backside of the circus as well as its cheerful, flashier public side should cause parents to think twice before bringing pre-adolescents to see it. However, for those who want to take a nostalgic look on a fading tradition, or hear some fantastic singing to wonderful music, or see glitzy dance steps that take their cue from the show's era and location, Carnival is waiting to take you there.
Cast:
David Ferrie (Schlegel, the circus owner and ringmaster); Beth Mulkerron (Rosalie); Steve Koehler (Marco); Susan Wiedmeyer (Lili), Nathan Marinan (Jacquot); J. Keegan Siebken (Paul).
Technical:
Set: Chad Abramowski; Costumes: Kathy Smith; Lighting: Tom Littrell; Sound: Jonathan Leubner; Musical director: Josh Robinson.