Images: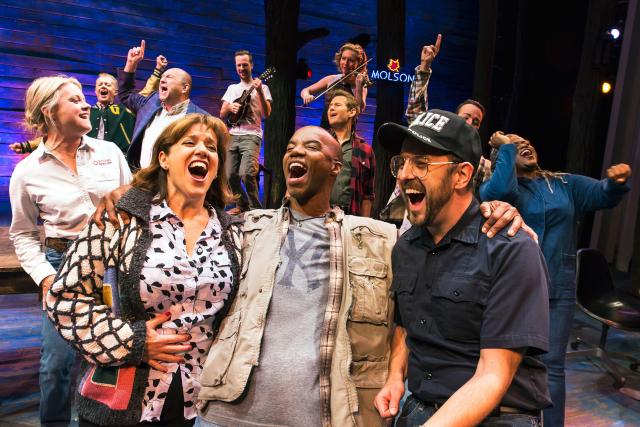 Company/Producers:
Junkyard Dog Productions, Jerry Frankel, Latitude Link
Theater:
Gerald Schoenfeld Theater
Review:
The award for best ensemble on the New York stage should be handed out right now; the cast of Come from Away simply can't be beat. Not coincidentally, this example of the best in theater is also an example of Canada at its best. On 9/11, 200 airplanes landed at the airport in Gander, Newfoundland, diverted and stranded there because American airports were shut down. Typically, the count was about a half dozen. Suddenly, the small town was faced with the challenge of accommodating 6,700 extra people. Although Newfoundlanders are fiercely independent — they don't consider themselves Canadians — they didn't hesitate to welcome the foreigners. The island was largely settled by the Irish, and the tradition of Celtic hospitality runs deep in their veins.
Newfoundland was mostly notable for its cod and L'Anse aux Meadows, largely thought to be the settlement of Leif Erikson's Vikings. Gander airport had been a valuable refueling stop before the age of jumbo jets.
Most of the 9/11 travelers were stranded on their planes for many hours; they had no idea where they were. As one of the songs proclaims, they landed "Somewhere in the Middle of Nowhere." MU shows us the story from both sides; the befuddlement and original suspicion of the passengers, and the organization and teamwork of the natives. Where would everyone sleep? How could they all be fed? What about all the extras that would be needed, including diapers and tampons? A special kitchen was set up to accommodate those who had different eating needs, be they kosher or vegetarian. Internal gripes had to be set aside; striking bus drivers suspended their action and drove the visitors to various places of shelter.

The twelve-person ensemble blends seamlessly, staying with some characters throughout while intercutting with others. There's a gay couple; a truck driver; various civic leaders; an Egyptian man who is singled out for his faith; a rabbi; the town mayor; an animal lover who rescues dogs, cats, and a couple of bonobo chimps, one of whom is pregnant, and several more. A quick change of outer clothing, the whipping off of a hat, or just a switch in accents, and we know exactly which individual we're seeing. It's almost a square dance, very fast paced and never boring.

There are touching quiet moments; one mother of a firefighter befriends another, everyone observes an American moment of silence, and the knowledge of what happened that horrific day is almost overwhelming.

If one performer stands out to me, it would have to be Jenn Colella. Her voice as Beverley, the captain of one of the American Airlines planes, takes the play from the beginning, when everything is confused and she must be the voice of reason, to the joyful end of the show. She gives information without preaching — who knew that women weren't piloting commercial airlines until 1986? — and reminds in authority without having to raise her voice. Her energy permeates the evening and is matched by the vitality of her fellow actors, all of whom are first rate.

It would be nice to think that in our divisive times we would be capable of the kind of acceptance and hospitality shown by the Newfoundlanders. It's not a source of pride that we seem to have become a xenophobic nation, quick to hate, quick to jeer. How much better we could be if we followed the path of gratitude followed by the passengers and those who cared about them; a scholarship fund set up to thank their hosts has raised more than a little cash, and the kindness shown during that terrible time has not been forgotten. Unga, the pregnant bonobo who lost her baby during the ordeal, again became pregnant and delivered a healthy baby at her new home, the Columbus Zoo. The little ape was christened "Gander."
Cast:
Petrina Bromley,Geno Carr, Jenn Colella, Joel Hatch, Rodney Hicks, Kendra Kassebaum, Chad Kimball,Lee MacDougall, Caesar Samayoa, Q. Smith, Astrid Van Wieren, Sharon Wheatley, Josh Breckenridge, Susan Dunstan, Tamika Lawrence, Tony LePage
Technical:
Sets: Beowulf Boritt, Costumes: Toni-Leslie James, Lighting: Howell Binkley