Images: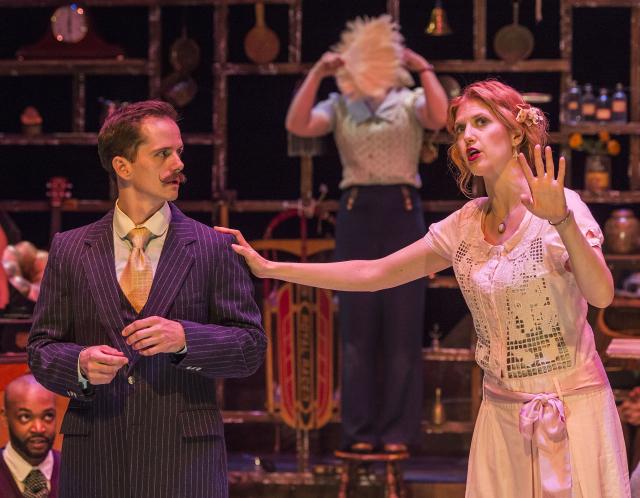 Company/Producers:
Center Theater Group & Coeurage Theater Company
Theater Address:
9820 Washington Boulevard
Review:
The angel of death hovers over a preternaturally cheerful 1920s Chicago family in Failure: A Love Story, now playing at the Kirk Douglas. The play, which is a remount of Coeurage Theatre Company's 2015 staging, is being presented by CTG as part of its new Block Party series (and its 50th anniversary season.)
In what could be an annual event, CTG will put its resources behind three plays by local small-theater companies which have won favor in the past. Each of the plays will run for ten days at the Douglas, which serves as the CTG's experimental space. The idea, of course, is to promote and support the work of these doughty companies — and to attract new audiences to the CTG.
Coeurage was founded in 2009 by a group of graduates from Cal State University, Fullerton; its name is derived from the French word for "heart." This is a quality it brings to all of its productions. In fact, a 2016 "American Theater Magazine" article called CTC "one of the most theatrical of the many theater companies in Los Angeles."
Thirteen members of CTC are in the cast of Failure, which was written by Chicago playwright Philip Dawkins in a presentational style: the actors narrate the story as it unfolds, with only occasional dialogue exchanges. Movement, physicality and dance fill the stage, all timed to an ever-flowing undercurrent of music and period pop song. Framing everything is J R Bruce's astounding set: towering racks filled with time-pieces (and period artifacts) of every kind.
The story, which I venture to say is based on truth, concerns itself with the Fail family, immigrants from Germany who opened what became a famous watch store in downtown Chicago. (The inexorable march of time is one of the play's major themes.) The store's success, however, did not keep the angel of death from its door. Papa and Mama Fall perished in a freak auto accident; then their children suffered similar fates over the years to come. One by one they collapse or drown; Jenny was a well-known swimmer (right up there with Johnny Weismuller) who tried — and fatally failed — to become the first to swim Lake Michigan. Just as bizarrely, each of the sisters was loved in turn by the same man, Mortimer Mortimer (Kurt Quinn), a nice, nerdy chap whose bad luck not only befuddles but ultimately destroys him.
The many deaths in Failure are mitigated by the raffish, whimsical tone of the play, which does not allow for much angst or dark thoughts. The show is unabashedly sentimental throughout; the sting of death is short and sweet; the survivors continue to look at life through rose-colored glasses.
The Coeurage's inter-racial ensemble, led by its inventive director Michael Matthews, does a splendid job throughout, working in seamless and harmonious fashion to bring this tricky play to life.
Cast:
Joe Calarco, June Carryl, Christina Gerla, Kristina Johnson, Margaret Katch, Denver Milord, Gregory Nabours, Theo Perkins, Kurt Quinn, Brandon Ruiter, Nicole Shalhoub, Gina Torrecilla, Brittney S. Wheeler
Technical:
Set: J R Bruce; Costumes: Allison Dillard; Lighting: Matthew Brian Denman; Original Music, Arrangements & Music Direction: Gregory Nabours