Images: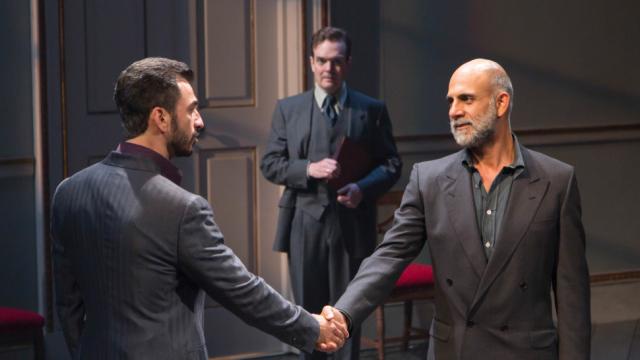 Theater:
Lincoln Center - Vivian Beaumont Theater
Review:
Oslo is definitely a thinking person's play. The subject matter itself is thought provoking; is peace in the Middle East possible? How do you get people who hate and blame each other into the same room to discuss and resolve important issues? Norwegians Terje Rod-Larsen (Jefferson Mays) and his wife, Mona Juul (Jennifer Ehle), think they may have the answer.
Rather than take the usual route of seeing the inherent problems as a whole, and relying solely on diplomats, why not try a more personal approach? Why not conquer one issue at a time? This is the process they started in 1992 by bringing to Oslo a non-official group of Israelis and members of the Palestine Liberation Organization. The talks eventually led to the Oslo Accords which, for a short amount of time, actually did get both sides to agree to work to end hostilities.
Lincoln Center Theater's Oslo production has its flaws. At three hours, it's simply too long, and a great deal of momentum is sacrificed. It also becomes repetitious; we don't need to hear the same arguments and doubts presented time after time. And there's so much shouting, after a while, it's easier to just tune out. Trying to keep up with all the characters is difficult; actors doubling roles doesn't help. But when Oslo succeeds, it shines. Several funny scenes add immeasurably to the production. Also, experiencing Palestinians and Israelis as human beings, even friends, lends a spirit of hope and good will to the proceedings. That they all love the cook's waffles is a bright moment; that they appreciate Mona is another.
While the actors are all superb, a few may be singled out. Michael Aronov brings exactly the right mixture of machismo, humor, and intelligence to Uri Savir, the Israeli who is brought in when the talks get serious. He is an Israeli male to the core, arrogant to the point of being unbearable, yet deeply sensitive, with the determination to do anything necessary to save his country.
Jefferson Mays doesn't just play Terje; he inhabits him, combining ego and true humanitarianism to take the wild leap of hope which fires the play. Not enough praise can be heaped on Jennifer Ehle. There simply isn't a more luminescent performer working today. Like her husband, Mona dresses in gray, the better to fade into the background. But the moment Ehle steps into the light, her porcelain skin and warm sympathetic eyes reveal her beauty. No wonder all the men fall in love with Mona. And when the phrase "You are nothing without your wife" is uttered to Terje, we know it's true. Ehle's gift is the ability to bring to a character the rare combination of strength, empathy, intelligence, and passion. Oslo would be a much poorer production without her.
Though the tenuous peace between Arabs and Jews didn't last, and we feel we are left with not much more than the famous image of President Bill Clinton bringing Yitzhak Rabin and Yasser Arafat together for a handshake in the rose garden, we have to pause. How much simpler a time it was when our biggest threat in the Middle East was the radicalism of the PLO and Hamas. In our post-9/11 world, we now have to worry about ISIS, North Korea, school shootings, and the sociopolitical divisions of our country. If only these issues could be addressed with an earnest attempt at reconciliation and a plate of really good waffles.
Cast:
Michael Aronov, Anthony Azizi, Adam Dannheisser, Jennifer Ehle, Daniel Jenkins, Dariush Kashani, Jeb Kreager, Jefferson Mays, Christopher McHale, Daniel Oreskes, Henny Russell, Joseph Siravo, T. Ryder Smith
Technical:
Sets: Michael Yeargan, Costumes: Catherine Zuber. Lighting: Donald Holder