Images: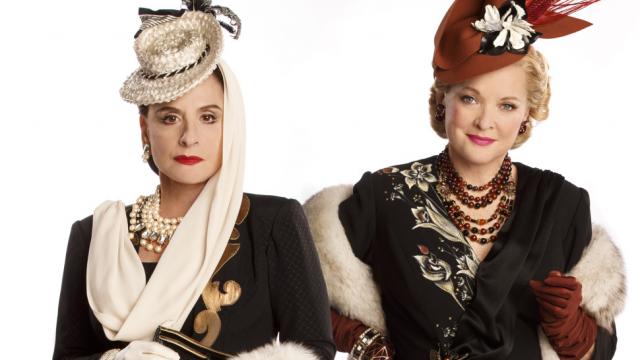 Company/Producers:
David Stone, Marc Platt, James L. Nederlander
Review:
This show should come with a subtitle: Dueling Divas. It's the story of two giants of the world of makeup, the Polish-Jewish Helena Rubinstein (Patti LuPone) and the cooler Canadian Wasp, Elizabeth Arden (Christine Ebersole). The scene is New York City, and the time shifts from 1935 through 1964. In the beginning of their reign, "nice" women didn't wear makeup, and they certainly didn't fixate on it. So, the job of convincing them that they needed as much artifice as possible was a relentless battle.
The tiny world of cosmetics wouldn't allow for two Queens, so Rubinstein and Arden slugged it out for the title, and the financial gain. They were both obsessive outsiders who were not helped in the least by the perfidy of the men in their lives. Arden's husband, Tommy Lewis (John Dossett), was a philanderer and a lush. Rubenstein's trusted right hand man was the gay blade Henry Fleming (Douglas Sills). Both men proved themselves to be bounders; they switched sides and betrayed secrets.
One of the best scenes in the show involves another man (Erik Liberman) who does his best to curry favor with Arden. He arrives with a gorgeous young woman (Steffanie Leigh) and a hyped-up pitch to sell his collection of many colors of cosmetics. Arden dismisses him, which turns out to be a less-than-wise decision. The salesman is Charles Revson, founder of Revlon. Revson later embraced TV advertising, which both Arden and Rubenstein considered too declassee for their customers. The glamour girl with him is Dorian Leigh who, along with her more famous sister, Suzy Parker, was one of the first supermodels. Leigh, the five-times-married Texan who was said to be an inspiration for Holly Golightly, should have her own play based on her flamboyant life.
The constant backdrop for War Paint is an antiseptic, rather depressing displays of the bottles apparently used in formulating cosmetics and face cremes. This production could benefit by being less austere, more glamourous. But the patrons at the theater don't really care. They're here to experience the potent magnetism of LuPone, and to a lesser degree, Ebersole. With this in mind, the program is more a series of solos than an integrated offering.
War Paint drags at times, and I found myself wishing for an infusion of enthusiasm in the script. But the opportunity to see real theater royalty like LuPone and Ebersole makes up for any deficiencies in pace or staging. All we need is to see them in their costumes and yes, their war paint, and we know at once that we're in the capable hands of modern-day legends.
Cast:
Patti LuPone, Christine Ebersole, John Dossett, Douglas Sills, Barbara Jo Bednarczuk, Patti Cohenour, Mary Ernster, Tom Galantich, David Girolmo, Joanna Glushak, Chris Hoch, Mary Claire King, Steffanie Leigh, Erik Liberman, Barbara Marineau, Donna Migliaccio, Stephanie Jae Park, Jennifer Rias, Angel Reda, Tally Sessions
Technical:
Sets: David Korins, Costumes: Catherine Zuber, Lighting: Kenneth Posner