Images: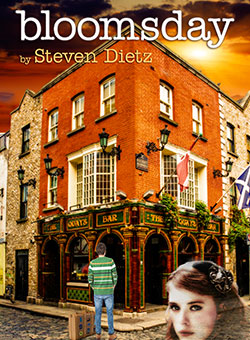 Review:
There's nothing more compelling – or painful – to watch than an unrequited romance. Most of us can recall "the one who got away," and perhaps even keeps you wondering, "what if?" In Bloomsday, by Steven Dietz, one of these romances plays out in a charming and touching way.
Dietz sets his play in Dublin, where young Robbie, a young American tourist, is entreated by native Dubliner Caithleen to join her tour. The pretty tour guide takes her small group on foot, to places where she recounts the famous episodes of James Joyce's novel, "Ulysses." Dubliners are so proud of the book's locale that, on a special June day called Bloomsday, residents recreate the book's famous characters, including Leopold Bloom and his wife Molly.
That may seem like a strange premise on which to hook a play, but Dietz is as good as any Irish storyteller. Many of his plays become favorites of regional theater across the country, and this is no exception. Bloomsday has received positive critical attention as well as a citation by the Harold and Mimi Steinberg/American Theater Critics Association New Play Award.
Veteran director Joseph Hanreddy, former artistic director of the Milwaukee Repertory Theater, demonstrates his deftness with this delicately written play. He mines a great deal of humor out of the odd situations (seriously, what would you say to a 35-year younger version of yourself?), and brings the play to an exquisitely touching climax.
In both Hitchcock and Moses, Hanreddy has actors who are more than equal to the task. Moses isn't afraid to show his character's flaws, although he is assisted by a great deal more dialogue than is given to his younger self. Hitchcock's performance takes the show to another level, where audiences can share her heartache as well as her courage and resignation for what eventually happens in her life.
As the younger couple, Kyle Curry displays the cluelessness of a young man who's in over his head with the wily Jordan Watson. Although Watson's character overwhelms Robbie with some of her quick decisions, she is so tantalizingly pretty that one can imagine Robbie coming back for more.
Next Act Theater is known for its hard-hitting and often political dramas. So its springtime gift of a love story is one that theatergoers shouldn't miss. It has several twists that will keep audiences guessing until the very end. Dietz doesn't sink into sentimentality, but gives us an honest look at how relationships can define our lives — even those that are left in the dust as one moves towards the future.
Cast:
Norman Moses (Robert), Carrie Hitchcock (Cait), Jordan Watson (Caithleen), Kyle Curry (Robbie).
Technical:
Set: Rick Rasmussen; Costumes: Aria Thornton; Lighting: Jason Fassl; Sound: Grover Hollway.