Images: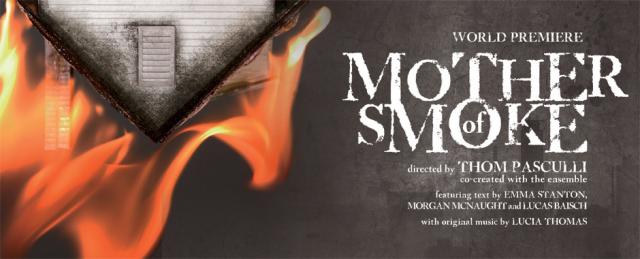 Company/Producers:
Red Tape Theater/Walkabout Theater Company
Review:
When confronted with a multiplicity of sensory stimuli, human beings tend to perceive motion first, then sound and, after that, sight. Further down the list comes verbal recognition and later, literary comprehension. Since most of this "collage" created by the Red Tape and Walkabout Theater companies presents these elements to its audience simultaneously, playgoers are advised to consult their syllabus, uh, playbill notes before the performance of Mother of Smoke commences.
The production's theme purports to be "displacement"—a subject referenced in its initial episode drawing from Euripides's Trojan Women (the Charles Mee adaptation), in which the women of the devastated city lament their loss and vilify queen Helen of Sparta for her part in starting it. The final episode also invokes antiquity — specifically, Virgil's Aeneas and Dido — to conclude its dramatic arc.
The 65-minute middle section in this 80-minute ensemble-created revel, however, expands the play's conceptual agenda to encompass Chekhov's The Cherry Orchard (translation not cited), slam-poetry monologues addressing Chicago's South Side gentrification and diatribes on the "Beckys" of the world — an eclectic text whose delivery entails roaring, shrieking, keening, grunting and exotic quasi-asthmatic vocalizations.
The score of incidental music assembled by Steve Labedz incorporates such ethnically diverse pop songs as "La Llorona," "Al Di La," "Kiss of Fire," "Is That All There Is?", and the Johnny Cash classic "Ring of Fire" (intoned as a hearthside hymn), as well as original compositions by Lucia Thomas, executed by various scenically embedded instrumentalists.
Kinetic activity is provided by full-cast hand-to-hand combat spectacles and acrobatics assisted by pieces of luggage, along with tangos, capoeiras and Dionysic corybants.
This mosaic narrative technique might hearken to theater's roots in pagan religious ceremony, but audiences unversed in its techniques (imagine Blue Man Group in a ballroom, or the Living Canvas dancers fully clothed) may find themselves bewildered.
The key to appreciating the undeniable industry invested in its execution is to postpone the search for linear coherency, and instead embrace the sweaty exuberance generated by the manifestly hard-working ensemble striving for the kind of communal emotional experience enjoyed by our ancestors at the dawn of the art — and that we continue to champion today.
Miscellaneous:
This review first appeared in Windy City Times, 4/17