Images: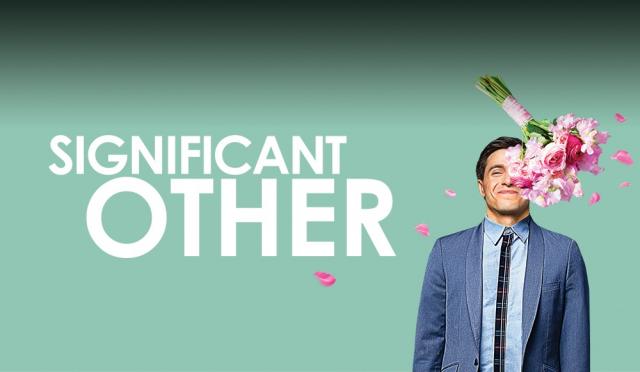 Company/Producers:
Jeffrey Richards, Roundabout Theater Company, Rebecca Gold, Ronald Frankel.
Website:
significantotherbroadway.com
Review:
Every now and then an actor appears onstage, and you immediately know he's got it all- talent, looks, presence. Gideon Glick is the whole package. As Jordan Berman, he takes what could be a cloying, rather annoying almost-30-year-old, and makes him sympathetic and real, with an Eddie Redmayne quality. Jordan, a gay man, is lamenting the fact that all his best friends are getting married, one by one. They're all women finding the men with whom they want to spend their lives, and Jordan's one real crush is not available or interested.
The show opens with very loud music and apparently, lots of drinking. It's the bachelorette party for Kiki (Sas Goldberg), and Jordan, Vanessa (Rebecca Naomi Jones), and Laura (Lindsay Mendez) are celebrating. These women do a fine job, but are not helped by the cheap dresses they wear, and the lack of attention to hair and grooming. It destroys the illusion that these are successful millennials when even their wedding dresses are bargain-basement quality. As for the hideous mauve bridesmaid's dresses, the less said, the better.
Laura, who's called a "schoolmarm," is closest to Jordan; the two discuss marrying each other and having a child, but it's all done in jest. Later, when Jordan verbally attacks Laura, it takes an actor as appealing as Glick to keep our empathy, even as we cringe at his nastiness.
In fact, there's a running petty meanness to these friends. They trash one another in turn, and mock the idea of romantic long songs. "I Hope You Dance" and "Because You Loved Me" are particularly savaged, until it becomes evident that the expression of the heartfelt feelings of the lyrics is fitting.
Jordan's relationship with his grandmother (Barbara Barrie) is tender, and may be the most honest we see. She constantly repeats the old stories which accompany her photos, and he plays along. When she contemplates suicide, Jordan is alarmed, then reassured it's "just talk," a term which comes to be anathematic to him.
This is a show which should have a more hopeful ending. Jordan, dressed in preppy clothes and sporting a bright smile, should have no trouble attracting a "Significant Other." So, we're left wondering what's really the problem, and to see him feeling bereft and sorry for himself at the fade out makes us uneasy. The real bright spot of the evening is the knowledge that this is a chance to see a brilliant young actor on his way up. Gideon Glick, you've got our attention.
Cast:
Gideon Glick, Barbara Barrie, John Behlmann, Sas Goldberg, Lindsay Mendez, Luke Smith, Rebecca Naomi Jones
Technical:
Sets: Mark Wendland, Costumes: Kaye Voyce, Lighting: Japhy Weideman