Images: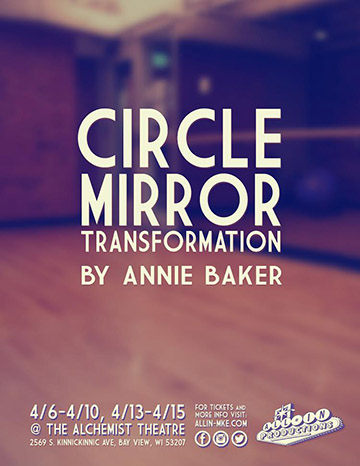 Theater Address:
2569 South Kinnickinnic Avenue
Review:
Years before playwright Annie Baker won the Pulitzer Prize for her play, The Flick, she wrote Circle Mirror Transformation. In it, a group of adults (and one teenager) come together for a six-week community acting class. The leader expresses her enthusiasm about persuading the non-profit organization (where her husband works) to fund this class. Her husband, James (Joe Krapf) has signed on as one of the students. The play's title, Circle Mirror Transformation, gives a hint regarding what the would-be actors discover about themselves.
When the play opened Off-Broadway in 2009, it seemed to strike a chord with big-city workers who often feel isolated in their daily lives. The play is focused on bringing people together to make connections – and perhaps even instill romance – between this acting group of two men and four women.
Although Circle Mirror Transformation makes its own dramatic waves, they are on a smaller, more intimate scale than one discovers in some of Baker's more recent work. Here, she sets her entire play in a windowless room; the characters have nowhere to face but each other. Perhaps intentionally, Baker gives women the stronger roles, although all the characters have an opportunity to make an impression.
Naturally, the early classes note the students' self-consciousness and wariness. Marty, the leader (played by the indefatigably upbeat Jennifer Grundy) understands that it will take time for them to trust one another. She encourages her students to "open up" and "lean in" to her acting techniques.
To the untrained eye, most of these exercises seem inane. The students are expected to play trees, a bed, or members of someone's family. Even the characters grow exasperated by these seemingly pointless exercises. Lauren (played by Sarah Caveney, who gives a credible performance as a high school student), complains that the class isn't meeting her expectations. "This isn't how people learn to act," she says with conviction. She thinks performing staged readings is more likely to be successful. One of her classmates, Theresa (Abby Stein, in a touching performance), disagrees. Theresa is the only student with legitimate acting credits. She tells Lauren — in a soft, kind voice — that, "yes, this IS the way you learn how to act."
The play carries an undercurrent of irony. Why do these people strive to become people they are not (i.e., actors) while their own lives prove far more interesting for an audience to watch.
All In Productions, the producers of Circle Mirror, is one of Milwaukee's newer theater companies. It was created almost three years ago by young people who were attracted to plays and musicals that "made sense" to their generation. So far, it has been successful in drawing an audience mainly consisting of young people. So it's no surprise that a play containing a high school student would appeal to them. However, Circle Mirror is more than that. Under Mitch Weindorf's direction, the cast conveys the human links every generation needs to create a community.
Interestingly, one of the most introverted characters seems to draw the audience's attention more than the others. It's Schultz (in a many-layered performance by Matthew Scales), who's somewhat of a misfit. He's newly single and trying out different sides of his personality to guide him through life. He still wears his wedding ring, even though classmate Theresa tells him this is "probably not a good idea" if he's going to pursue single women. Briefly, Schultz manages to boldly extricate himself from the ring. But soon it's back on, and Schultz unconsciously twists it on his finger for the rest of the show.
A review of Circle Mirror that appeared in The New York Times notes that "the artificiality of the acting games just emphasizes the naturalness of the characters' real lives and feelings." Sometimes, the actors in this production fall short of making the audience care about these lonely souls. But other moments stand in stark contrast, as the lesson learned by these students is that understanding themselves is the first step towards pretending to be someone else.
Cast:
Jennifer Grundy (Marty); Joe Krapf (James); Sarah Caveney (Lauren); Matthew Scales (Schultz); Abby Stein (Theresa).
Technical:
Set: Alex Moliere; Costumes: Caitlyn de Araujo; Lighting: Brittany Boeche; Composer: Katie Zutter.