Images: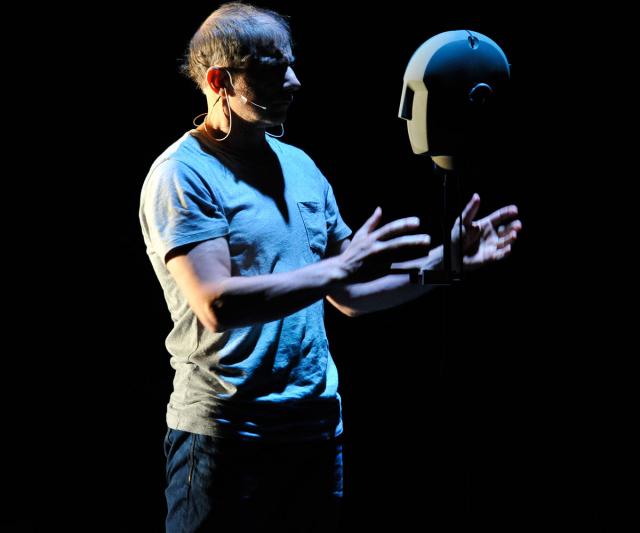 Company/Producers:
Wallis Annenberg Center for the Performing Arts & Complicite/Simon McBurney
Theater:
Wallis - Bram Goldsmith Theater
Theater Address:
9390 North Santa Monica Boulevard
Review:
This is the second time I've seen Simon McBurney's The Encounter,> his epic solo play about a man fighting for survival in Brazil's Amazon rainforest. My first exposure was three years ago at the Edinburgh International Festival. Now writer/director/performer McBurney has brought his immersive, high-tech production to The Wallis in a West Coast premiere.
McBurney, artistic director of the London-based theater collective, Complicite, was previously seen in L.A. in Shun-Kin (2013), Strange Poetry (2014), and The Noise of Time (2002). His welcome return to this city was occasioned by the world tour of The Encounter, which, to date, has made stops in London, Athens, Berlin, Switzerland, and New York.
With the audience sitting in darkness and wearing binaural earphones (3-D audio), McBurney relates his tale in a variety of ways, backed up by music, sound and lighting effects, video projection, a chorus of recorded voices. To some extent, it's like listening to a radio drama, except that McBurney also acts out much of his narration, turning the bare stage into an imaginary jungle replete with wild animals, birds and mosquitoes, rainstorms and typhoons, marauding native tribes, and psychedelic trips, much of which he experiences in a kind of delirium induced by drugs, heat, thirst, and terror as he goes deeper and deeper into the heart of darkness, only to discover the key to life here, the very essence of what it means to be human. The irony astounds him: the "primitive" people of the jungle — specifically the Mayoruna tribe — could have the very qualities which are missing in the larger "civilized" world.
The genesis of The Encounter was the diary kept by National Geographic photographer Loren McIntyre when he got lost in a remote area of the Amazon in 1969. That diary served as the basis for Petru Popescu's non-fiction book, "Amazon Beaming," which became a best-seller and drew McBurney's attention. McBurney as McIntyre endures many horrors in the jungle, especially when he is kidnaped and almost murdered by a hostile tribe. Saved by the leader of the Mayorunas and nursed back to life by his people, McBurney has become a kind of spokesman for them. The message they ask him to convey is this: "Tell the world that we have survived. Many have perished. We have survived. But whether we will all survive...that is another matter."
The beauty and riches of the Amazon — oil, lumber, perhaps even gold — have attracted the developers and exploiters, who keep driving the Mayorunas off their land, pushing them into remote and inhospitable parts of the jungle. If they are to be saved, the world needs to listen to storytellers like Simon McBurney.
The two-hour-long Encounter is one of the most imaginative and daring theatrical productions ever to come our way. It is also an acting tour-de-force for McBurney, who commands the stage from beginning to end, giving a physical and spiritual performance that is even more powerful and moving than it was in Edinburgh.
Technical:
Design: Michael Levine; Sound: Gareth Fry with Pete Malkin; Lighting: Paul Anderson; Projections: Will Duke; Production Manager: Niall Black