Images: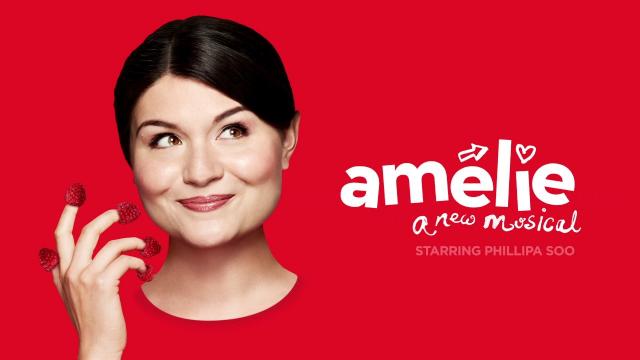 Company/Producers:
Aaron Harnick, David Broser, Triptyk Studios, Spencer B. Ross
Review:
This fanciful tale of a young woman and her private, inner life begins in style; a blue curtain features butterflies which seem to flutter into the audience. Amelie Poulain is a creative child born to parents who are not familiar with the concept of unconditional love. They decide early on that their daughter is fragile, and must be schooled at home.
The little girl, pigtailed and dressed in red, names her pet fish "Fluffy," and declares him her best friend. She's lonely; her dad doesn't like to even touch her, and her bespectacled mother is cold and available only on an intellectual level. It's no wonder that later on in life, Amelie will find it difficult to deal with love.
When next we see Amelie, she's still dressed in red, living in Montmartre, and working as a waitress. Her place of employment, "Café Des 2 Moulins," provides an ideal spot for Amelie to observe humanity and make friends. After the tragic death of Princess Diana, she vows to spend her life helping others. She finds a box of memorabilia in her apartment, and vows to return it to its rightful, and no doubt very grateful, owner. This sets in motion a series of adventures, culminating in Amelie finding love at last and learning to love in return.
Amelie the musical is a combination of several other shows. The improvised props and shiny blue fringed material used to suggest water bring to mind The Fantasticks. Puppets conjure up thoughts of Avenue Q. Oldies but goodies Carnival and Irma La Douce also feel like inspirations. In fact, this show could use a little more of the flavor of Paris, where Amelie lives as an adult.
The lighter moments work particularly well; an exaggerated version of Elton John is a hit with the audience, and it's fun to see the TV show "Friends" dubbed in French.
Phillipa Soo is winsome and totally enchanting in the title role and she leads a company of performers with voices as impressive as her own. As such, Amelie is a charming little valentine to the Broadway audience, a gentle moment in what is proving to be a great big, glitter-wrapped present of a Spring Theater Season.
Cast:
Cast: Phillipa Soo, Adam Chanler-Berat, David Andino, Randy Blair, Heath Calvert, Alison Cimmet, Savvy Crawford, Manoel Felciano, Harriett D. Foy, Alyse Alan Louis, Maria-Christina Oliveras, Paul Whitty, Emily Afton, Trey Ellett, Destinee Rea, Jacob Keith Watson, Tony Sheldon.
Technical:
Sets: David Zinn, Costumes: David Zinn, Lighting: Jane Cox & Mark Barton