Images: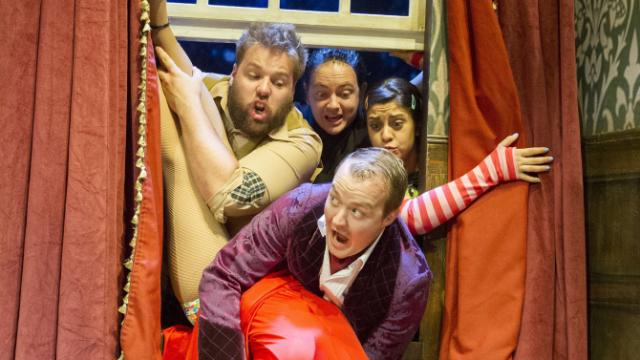 Company/Producers:
Kevin McCollum, J. J. Abrams, Kenny Wax, Stage Presence Ltd., Catherine Schreiber
Review:
Far be it for me to incite anyone to imbibe before going to the theater, but I must say that having a couple of drinks before covering The Play That Goes Wrong may well have enhanced my enjoyment of this zany farce. This Olivier Award winner for best comedy is not for the starched-collar set; think Three Stooges rather than Noel Coward.
The set is typical English drawing room, just perfect for "The Murder at Haversham Manor," the show we're (not) about to see. Yes, this is a play within a play, with terrific actors playing lousy actors playing stuffy, silly British stereotypes.
If a surly character named Trevor (Rob Falcone) badgers you before the show begins, don't worry, it's just part of the action. Trevor is actually the tech guy of the Cornley University Drama Society, and responsible for several rather glaring gaffes during the production. The hands of the grandfather clock tell us that it's five- a.m. or p.m. we don't know- and that's about all that stays the same where this set is concerned.
The plot could be cribbed from a game of "Clue." Charles (Greg Tannahill) is dead, and the question is who could have killed him? Since the grounds crew has left (or have they?), it must be someone in the room. Can it be that his fiancée, the vainglorious Florence (Charlie Russell) is having an affair with her intended's brother Cecil (Dave Hearn)? What's the story with the ever- faithful Perkins (Jonathan Sayer)? How will Inspector Carter (Henry Shields) ever sort it all out? Meanwhile, the set is being demolished in a series of misfortunes and incompetence.
There are some great lines, one of the best involving the portrait of a spaniel hung precariously on the wall. While all the players are both brave (how do they survive the pommeling?) and masters of timing, Dave Hearn stands out as the actor who can't resist laughing at all the wrong moments, and mugging to the audience.
In showbiz, actors are constantly ordered to "have fun with it." In the case of The Play That Goes Wrong, the audience has to be willing to play along, or the evening will be as unappealing as the paint thinner alcohol which provokes many a humongous spit-take on stage.
Cast:
Rob Falconer (Trevor), Dave Hearn (Max), Henry Lewis (Robert), Charlie Russell (Sandra), Jonathan Sayer (Dennis), Henry Shields (Chris),Greg Tannahill (Jonathan), Nancy Zamit (Annie)
Technical:
Set: Nigel Hook, Costumes: Roberto Surace, Lighting: Ric Mountjoy