Images: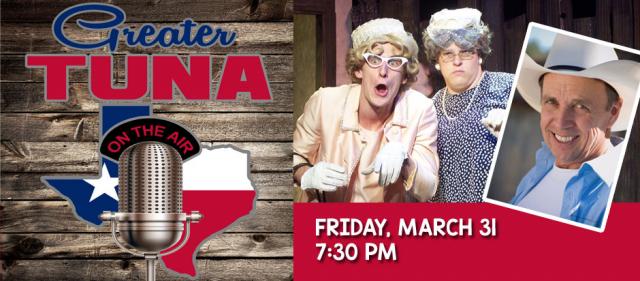 Review:
Many years ago in New York I reviewed the opening night of a new musical titled, "The Devil of Delancey Street. I opened my report with these lines:
"Richard Nixon famously remarked, `I am not a crook!' Let me paraphrase that and say, `I am not a crank!' I don't go to the theater looking for trouble, but like all critics, I do occasionally find it.'"
That sentiment is worth repeating here as I reflect on last Friday night's Montgomery County Performing Arts Society offering of Greater Tuna at the Crighton Theater. In the half hour before curtain, the arriving "full-house" audience had an excited buzz of eager anticipation that Dickens might have termed, "Great Expectations." I shared that anticipation, because back in 1982 I had seen the hilarious original edition of this zany comedy by Jaston Williams, Joe Sears, and Ed Howard, when it had its Off-Broadway premier in New York. Part of the amusing magic of that production derived from the fact that Mr. Williams and Mr. Sears frantically portrayed all of the show's near two-dozen odd ball characters of varying ages and genders.
In the fictional redneck Texas town of Greater Tuna, each member of the town's screwy population is nuttier than the next. The town slogan is, "Where the Lion's Club is too liberal and Patsy Cline never dies." Extreme southern accents and Texas twangs would abound.
While I did not write a review at that time, in the years that followed I have enjoyed reviewing two of the three spin-off productions authored by those same three gentlemen. In 2003, right here in Montgomery County's Nancy Bock Performing Arts Center, I joined an audience that roared with laughter as Sears and Williams performed A Tuna Christmas, with its cast of small town lunatics helping to make the season merry. Then in 2005 the boys were at it again, bringing as much fun as ever to the Crighton Theatre with Red, White and Tuna. I wonder how many members of last Friday's audience had attended those earlier uproarious productions with the original stars, and therefore hoped, as I did, to re-experience the corny fun that has kept this show on the road for over thirty years?
Alas, recreating that fun was not to be. The bare- bones staging, with just a few chairs and tables suggesting both a family home and a town radio station, served to keep the simplicity of the original Michael Krause scenic design. Likewise, the hayseed hilarity of Linda Fisher's playfully outrageous costume designs was kept intact as well. Except for a few brief and pleasant interludes of Patsy Cline recordings during scene and costume changes, that would be about as far as this latest disappointing edition of Greater Tuna was prepared to go in preserving the delightfully innocent flavor of the original.
The cause of this theatrical downfall was clear from the beginning: After more than three decades of touring in the various incarnations they created, Mr. Sears and Mr. Williams no longer star in the piece. With all due respect to the countless costume changes of this hardworking new cast including Ryan H. Bailey, Tim Leavon, and Will Mercer, the magic was simply not there. The characters they portrayed here became more like cartoons than the hilarious and endearingly believable townsfolk of the original production. Gifted comic timing and the art of pantomime are among the most difficult dramatic arts to master, and both were sadly lacking here as cast members chased after imaginary dogs (endlessly), and tried to convince us they were mixing, or chopping, (or something) while moving around in the imaginary kitchen.
The addition of the third cast member in this version seemed to further diminish the very unique original concept. The town's conservative values flourish with local suspicions being raised about Huckleberry Finn dressing in women's clothing, while the winning essay in the local high school contest is titled, "Human Rights: Why Bother?" A budget-strapped local production of My Fair Lady is in the works but will have to use the costumes from last year's South Pacific. Blacks and Mexicans are invited to audition for the chorus but are advised they must bring identification. Meanwhile, one town committee is pressing for "less Spanish speaking on the airwaves."
At times it seemed as though we were watching an episode of the delightful long-running TV variety show, "Hee-Haw," with all the music and witty humor removed. Now, don't get me wrong, I laughed a few times myself, and there were audience chuckles, some laughter, and a few guffaws. One couple, seated not far from me, got their money's worth by howling at the slightest provocation from this heavy-handed attempt at comedy. My greatest happiness was glancing around the theater from time to time to note the numbed expressions of fellow laugh-free audience members who looked as though they had o.d.'d on dental novocaine.
Well, there you have it: My own special version of Shakespeare's Much Ado About Nothing. Maybe I am a crank, though still definitely not a crook.
Cast:
Ryan H. Bailey, Tim Leavon, Will Mercer