Images: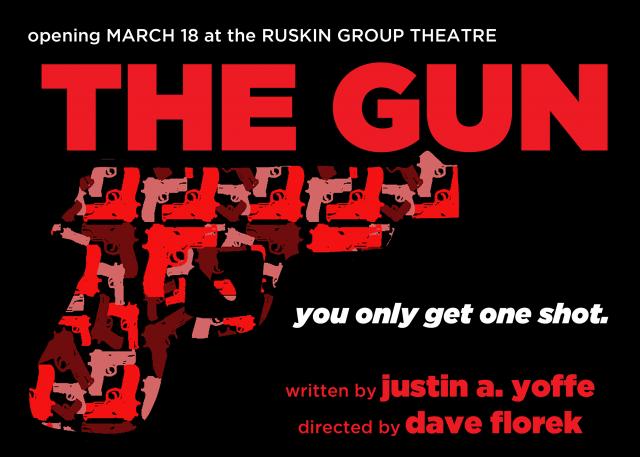 Review:
In Justin Yoffe's quirky but provocative new play, The Gun, now in a world premiere at the Ruskin, Steve (Josh Drennen) comes across a homeless guy (Hamilton Matthews) in an alley. During the confrontation scene that follows, Steve discovers a pistol in a nearby pile of garbage. Surprisingly, the homeless guy not only denies ownership of the weapon but declines to take it from Steve, asserting in clairvoyant fashion that "you need it more than I do" (or words to that effect).
The homeless guy has perceived that Steve, an unhappy and unsuccessful actor, must change the way he thinks and behaves in life. He also insists the gun will become the catalyst for that change.
Miraculously, that's exactly what transpires: Steve, bolstered by the confidence and courage that comes with hefting that rod, not only dazzles a director (Mouchette Van Helsdingen) at his next audition, but shocks his two best friends by spouting off like a demented New Age guru.
Mike (John Colella) and Ellen (Austin Highsmith Garces), are an upscale married couple who have treated Steve like a problem child, giving him room and board, suffering through his disappointments and failures. Now, though, that reality is flipped on its head by the new Steve, who delivers fiery, poetic speeches about the need to live your truth, escape the trap of everyday existence, and so on. Steve gets Ellen to admit how unhappy she's been as the wife of a narrow-minded, conforming businessman. He encourages her to leave Mike, break out of her gilded cage, "find herself." As for Mike, he is at first outraged by Steve's behavior and threatens to shoot him with the very weapon that has become his talisman, only to fall under its spell himself.
If all of this sounds a bit ridiculous, it is. Yet at the same time, the playwright somehow makes you care for these strange, blighted people. Credit his way with language, his poetic and philosophical gifts. The Gun makes you think as well as feel–no small accomplishment for such a short play (it runs under an hour).
The actors work valiantly to bring the piece to life, giving strong, solid performances in roles that easily could have become caricatures (that includes L. Emille as a wise-owl bartender). A tip of the hat to director David Florek as well.
My main caveat is with the producers. By not offering a companion piece to go with The Gun, they made my night feel incomplete. It was as if I'd just had dinner at a restaurant which served a starter but no main course.
Cast:
Josh Drennen, John Colella, Austin Highsmith Garces, Mouchette Van Helsdingen, L. Emille, Hamilton Mathews, Kevin Alain (alternate)
Technical:
Stage Manager: Nicole Millar; Costumes: Sarah Figoten Wilson; Original Music: Hannah Florek; Lighting: Edward Salas