Images: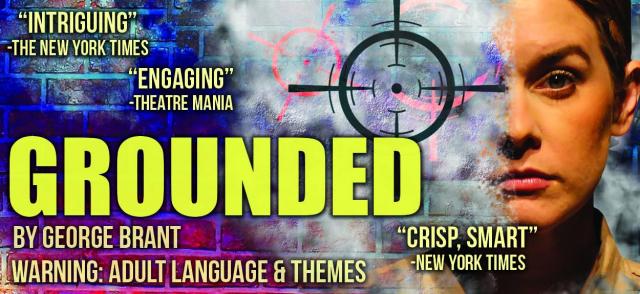 Theater:
Florida Studio Theater - Bowne Lab
Theater Address:
First and Cocoanut Avenues
Review:
Grounded takes a female ace pilot on a flight to a change of career and thus, at the core of her very being, to unexpected and supremely difficult family, moral, and mental positions. As a monologue, the drama requires a tour de force performance. Rachel Moulton delivers it.
As part of Florida Studio Theater's Stage III series of special, hard-hitting dramas that work with the simplest sets and other production elements, Grounded takes place in front of a brick wall and is told from three chairs equally spaced horizontally across an intimate stage. Kate Alexander's direction and blocking, as well as Moulton's agility or lack of it at each "station," make her narrative move and moving.
Essentially, Moulton's nameless warrior begins as an exulting ace fighter pilot of a plane it took guts, especially for a woman, to fly. An unplanned pregnancy sends her into the life of a wife and mother at a new family home and at work into the grounded position of drone-operating pilot. From the blue and open sky in Wyoming, her move is to a windowless space before a screen in a cramped Nevada desert tracking station.
Little by little, her job intrudes on her home life. She refuses to take off her uniform. She sees each hit she makes as close up and personal. She regards herself as a revenging God over bad people half a world away, but it becomes a part perhaps even closer to her than her place at home. Can one go on like this without a breakdown?
There's a problem with Grounded. It's that it is too much of a (dramatically) good thing. It makes its audiences sit in front of a stage as the person they're watching must sit in front of a screen. What for? Repetition, repetition, repetition of what's seen and what's thought about that. And the result may result in strain off just as on stage.
Technical:
Set: Bruce Price; Costume: Adrienne Webber; Lights: Ryan Finzelber; Stage Mgr: Stephen M. Ray, Jr.
Miscellaneous:
Regional Premiere. Retired Lt. Col. Scott Mann, former Green Beret who specialized in unconventional, high-impact missions worldwide, helped train Rachel Moulton at FST for the role that demands a "uniquely accurate look from inside the cockpit."