Images: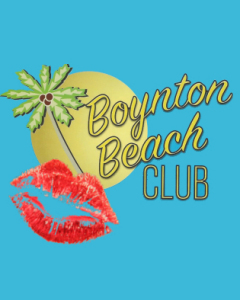 Theater:
Manatee Players PAC - Mainstage
Website:
manateeperformingartscenter.com
Review:
Retirees are seldom the subject of drama, so it was refreshing a few years ago to have a film devoted to their lives in a gated Florida community. On stage, though, all that's new is that their world is musical and, if anything, the music and lyrics chosen to convey Boynton Beach Club's world and its inhabitants don't defy the stereotypical but rather swim in it.
Two somewhat redeeming features of this musical are that it supports a decent production and doesn't need a huge cast. A baker's dozen are enough at Manatee Players to cook up solos, duets, a nice quartet, and an ensemble.
The action flows smoothly on a three-part set with revolving stage on each end, a center with a recessed area that can roll forward, and the complete proscenium when properly lit. Projections like virtual reality provide a background of each end room. At a final party, balloons fall even on all the audience. The original film was no grander for following what happens and where.
Appealing Rodd Dyer's sincere recent widower Jack takes forever to succumb to the charms of Ellen Kleinschmidt's Sandy, who may not be what she seems. Who cares? They are a good couple right from the start, so it's too bad that their featured songs are so blah.
Al Jackson stands out as the guy who knows all about winning gals, ever since Woodstock--he claims. He gets his comeuppance when he meets the gal he's had to secretly contact via online dating.
Nancy Denton does what she can with a dumb Lois who's ready to chuck her romance with Brian Kleinschmidt, whom she thinks is a real estate developer, when she sees him coming out of a woman's house early one day. Michelle Anaya gets more than one role; the worst is as a prostitute-thief. (Who!?! Surely not anywhere near the BB Club.)
Meg Newsome as a new widow has to pout and sorrow and talk to her dead husband. At almost the last minute she changes attitude along with changing into a pretty gown. Why? Is it to be believed that she's persuaded by her club galpals?
It's rather much fun watching Becky Evans's many costumes, especially in a flashback to the '70s sequence. What's not always bearable are the songs and lyrics. Director Rick Kerby has done his best to liven things, but it had to be difficult since the opening number is D.O.A.
Cast:
Ellen Kleinschmidt, Rodd Dyer, Meg Newsome, Al Jackson, Nancy Denton, Brian Kleinschmidt, Christen Manuel, Jo Davidsmeyer, Michelle Anaya, James Olson, John Adruzzo, Michelle Anaya, John Andruzzi; Orchestra: William Coleman (Conductor), Teri Booth, Tony Rizzo, Nader Issa, John Januszewski
Technical:
Set & Lights: Ken Mooney; Costumes: Becky Evans; Sound & Tech Dir: Tom Sell; Projections: Ken Mooney, Jay Popp
Miscellaneous:
This is a World Premiere. Producers and creators of the show hope it will find more outlets and older audiences throughout Florida and perhaps even in New York, where older people attend so many performances on and off Broadway.