Images: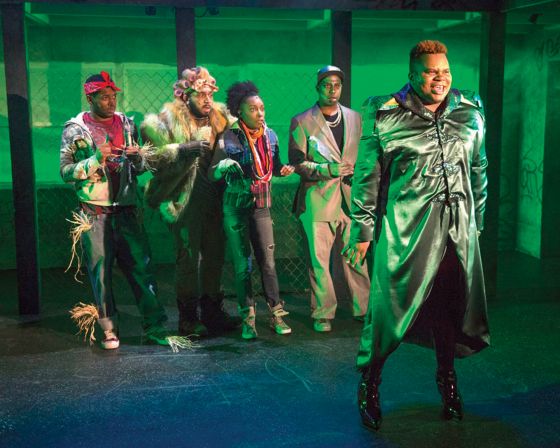 Review:
If the brothers and sisters of Huckleberry Finn, Peer Gynt, Alice Liddell, or Ebenezer Scrooge were not to be found in every culture the world over, their stories would have faded from memory with their generation, rather than endure to achieve the status of a "classic." L. Frank Baum's tale of a farm girl in 1900 learning life lessons on an odyssey through a magical land should have easily adapted itself to Charlie Smalls and William F. Brown's 1974 reimagining of the familiar fable rendered universal by its cinematic incarnation in 1939, but while a rural midwest-dwelling African-American Dorothy is hardly extraordinary, the Great Migration of the 20th century led to the cities, spawning the legacy reflected in the distinctive soul-music harmonies showcased in Smalls' score.
Director Lilli-Anne Brown acknowledges history by locating our heroine, not on the prairies, but in the "Kansas Homes" CHA projects, where Dorothy's Aunt Em peddles T-shirts from a sidewalk stand, where the enchanted shoes are glittering hi-tops and the yellow brick road is a pavement crossing. Gangsta-wannabes taunt the scarecrow, a touch of oil turns the tin man into a crooner in Marvin Gaye mode, and the lion arrives clad in pimp-finery, flanked by a pair of flygirls.
The Emerald City denizens are posturing clubbers, the good Witch of the North wears Caribbean gear, and her Southside sister, a satin aviator suit. The wicked Witch of the West operates a sweatshop factory, and the Wiz styles out in Joan Crawford shoulders and spike heels.
It's not enough to simply dress up the same old Hollywood razzle-dazzle in street wear, though. Breon Arzell's choreography for The Wiz dispenses with old-school tap-and-kick formations to instead reflect the influence of street dance — a wise move when the "ease on down the road" requires six hoofers to occupy a lane spanning barely three by 14 feet.
Sydney Charles endows Dorothy with pipes as expressive of defiance as of supplication. Indeed, the entire cast (and the likewise exuberant band camped on the overpass) exhibits full-bodied vocal ranges lending gusto to a lush roster of video-ready compact musical extravaganzas so catalyzed by the intimate configuration of the north studio at Theater Wit that audience members could be heard spontaneously witnessing along with the chorus on the roof-raising "Brand New Day."
March may have come in like a lamb this year, but this Kokandy production ensures its going out like a you-know-what.
Miscellaneous:
This review first appeared in Windy City Times, 3/17