Images: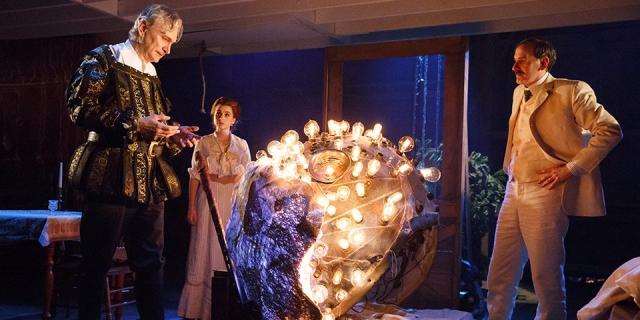 Company/Producers:
Playwrights Horizons/The Debate Society
Review:
Once again, Playwrights Horizons has given us a play that's thought provoking. The Light Years demands our full attention; fact is mixed in with fiction, and the time frame swings back and forth. Let your mind drift, and you may get lost. Before the curtain even goes up — and there is a gorgeous deep red curtain — we hear yips and cries of men being shocked as they attempt to bring the new marvel of electricity to the Chicago World's Fair in 1893.
Fact: There really was a theater impresario named Steele MacKaye who attempted to bring to the Fair a gigantic 12,000-seat auditorium called The Spectatorium. It wasn't completed because a financial panic made financing impossible. MacKaye did, in fact, invent the "Nebulator," which was a theatrical cloud machine. He was also a playwright, an accomplished actor, a teacher, and a Civil War vet. As played by Rocco Sisto, MacKaye was a charming, handsome man with great charisma, both a genius and an outrageous ham, who ended up feeling he hadn't reached his full potential.
The Light Years is as much about missed connections as it is about hopes and dreams. Hillary (Erik Lochtefeld) works day and night to perfect the moon machine that MacKaye needs to impress his investors. His wife Adeline (Aya Cash) believes in him, and in the possibilities of the wonderful life they'll have together. When her time in her home is cut short, Hillary moves upstairs to become the landlord, and his helper takes over the house. A bucket passes by the window to collect rent and receive food.
Forty years later, in 1933, there's another World's Fair, and another family in the house. The changes to the home are cleverly accomplished in view of the audience, a bright spot in the play. Lou (Ken Barnett) is a creator of jingles, a dreamer who cannot catch a break. His wife, Ruth (also Ms. Cash), who bears a striking resemblance to Adeline, believes in him, even as she and their young son Charlie (Graydon Peter Yosowitz) are starving. Ruth is forced to get a job in the pancake house at the Fair; she gets some money, and even more importantly, she gets to bring home the leftover food. Charlie desperately wants to see the action and even paints dots on his face, hoping to get in for free on "freckle day."
All the while, Hillary is upstairs, spying on the new family through a hole in the floor, and being encouraged to work again by Ruth's resemblance to his beloved Adeline.
Tying both families together is Hong Sling (Brian Lee Huynh), Hillary's Chinese assistant. He has moved in, and then out of the house, and is privy to the high and low points of the inhabitants. Interestingly, Hong has been the one who has lived the most productive life. Those who hope that the production will end on a high note may well be disappointed. The connection we keep hoping for just misses. But having seen this show, it becomes likely that we'll look at electricity differently, at least for a while. This thing we take for granted in our lives was once a miracle; the next generation may well experience as everyday conveniences things we can only dream of now.
Cast:
Ken Barnett, Aya Cash, Brian Lee Huynh, Erik Lochtefeld, Rocco Sisto, Graydon Peter Yosowitz
Technical:
Sets: Laura Jellinek, costumes: Michael Krass, lighting: Russell H. Champa