Images: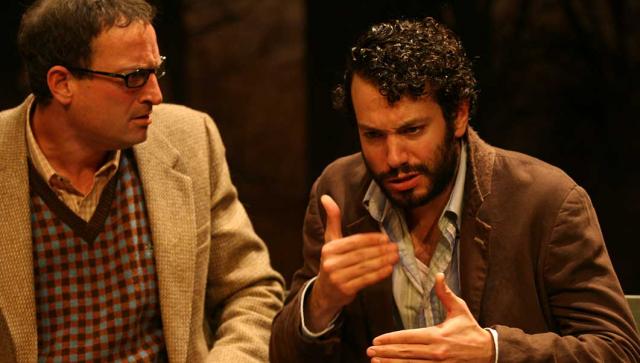 Company/Producers:
Wallis Annenberg Center for the Performing Arts/Deaf West Theater
Theater:
Wallis Annenberg Center - Lovelace Studio Theater
Theater Address:
9390 Santa Monica Boulevard
Review:
Deaf West (recent producer of Spring Awakening) has teamed up with the Wallis Center in its presentation of At Home at the Zoo, two short plays by Edward Albee. In keeping with its mission to "improve and enrich the cultural lives of deaf and hard of hearing individuals," Deaf West's productions feature deaf and hearing actors working together, using a mixture of ASL (American Sign Language) and spoken English.
In At Home, the main actors move and sign, with their speaking counterparts standing nearby and reciting Albee's dialogue. It makes for a compelling, though sometimes distracting experience, with one's attention constantly being pulled in two directions.
The Zoo Story, the 1959 one-act play which made Albee famous, is performed second on the bill, with Homelife coming first and serving as a prequel. Written forty years after The Zoo Story, Homelife is set in the New York City eastside apartment of Ann (Amber Zion) and Peter (Troy Kotsur), the meek gent on the park bench in Zoo Story. Albee dissects Ann and Peter's marriage for us, revealing its staleness and lack of passion, a fact that the horny, slightly shrewish Ann keeps throwing in Peter's face. "Be an animal!" she screams at him at one point. Roused, he starts to initiate rough sex only to have a flashback to his college days, when he shamefully took part in a gangbang. The memory of that cringe-worthy act kills all desire now, leaving her disappointed and frustrated–and him wanting out.
Off to Central Park and his favorite bench he flees, only to be suddenly accosted by the rude, ignorant, violent Jerry (Russell Harvard) — the kind of male animal Ann has the hots for.
The improbable elements of both plays are many, but there is no denying their drama and power. Zoo Story, for my money, is still the better play: it is both comic and horrifying, scary and tragic. At one time it was thought to be a prime example of Absurdist Theater, but today, with so many of us living in cities over-run with blighted, homeless people like Jerry, the piece comes off as a realistic, even familiar slice of life.
Skillfully acted and signed, expertly directed and produced, At Home at the Zoo makes for a provocative night at the theater.
Cast:
Troy Kotsur, Russell Harvard (alternate, Tyrone Giordano), Amber Zion, Jake Eberle (voice of Peter), Jeff Alan-Lee (voice of Jerry), Paige Lindsey White (voice of Ann)
Technical:
Fights: Steve Rankin. Set/Costumes: Karyl Newman.