Images: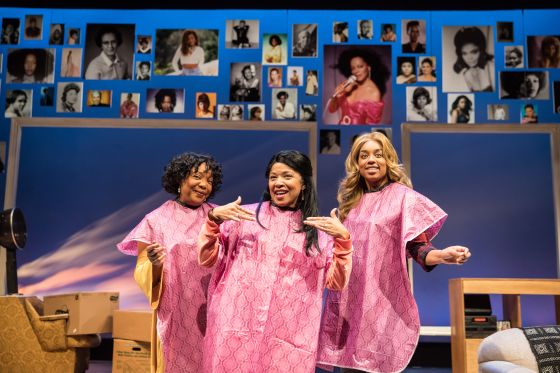 Theater Address:
2433 North Lincoln Avenue
Review:
No one disputes the importance of communal space in promoting social unity, whether the public baths of Athens and Rome, the trading posts of frontier settlements, or the galleys of seagoing vessels. If the barber shop represents the urban working man's agora, the beauty salon is its feminine counterpart. More than simply a grooming facility, these refuges serve as sanctuaries where confidences are exchanged, plans devised, and loyalties forged.
The hair emporium in Marcus Gardley's A Wonder in My Soul is the domain of Bell Grand Lake and Aberdeen "Birdie" Calumet, Mississippi girls who migrated to Chicago in the 1960s to seek their fortunes, Birdie as the R&B warbler dubbed "Songbird," and Bell Grand as the wife of a railroad porter whose peripatetic trade soon left her a single mother of two children.
At a time when hairdressers skilled in styling African hair were a rarity, the enterprise initially launched as a temporary means of income soon becomes a destination for neighborhood residents (Gardley never specifies its location, but think Bronzeville) and visiting celebrities alike — customer photos on display include Gwendolyn Brooks, Carol Moseley Braun, Oprah Winfrey and Michelle Obama.
All that is just backstory and flashbacks, however. On the eve of election day in 2008, gentrification threatens the iconic site with foreclosure. As Birdie and Bell's supporters search for solutions — a cohort encompassing activist LaFayette, police officer Paulina, posh-suburban pastor's wife First Lady and her "personal assistant" Normal Beverly — the proprietors recall the events bringing them to this crisis, their memoirs tracing a timeline of racial progress viewed through the microcosm of chatty commentary, pop songs (though not precisely a musical, the dramatic action includes spontaneous radio-prompted workplace sing-alongs) and, of course, hair fashions.
A text crammed with so much history is enough to make you want to take notes, especially since Birdie and Bell render it in the florid idiom of their Deep South childhood, where a problem is "serious as a pregnant mule" and a blizzard is "God's classical music" — language rolling forth under Chay Yew's direction like a warm breeze on a cold night.
Jacqueline Williams and Greta Oglesby anchor the ensemble in the roles of Bell Grand and Birdie, flanked by a quartet of sturdy actors welcoming us to share in a richly textured cultural journey too frequently ignored in formal chronicles.
Miscellaneous:
This review first appeared in Windy City Times, 3/17