Images: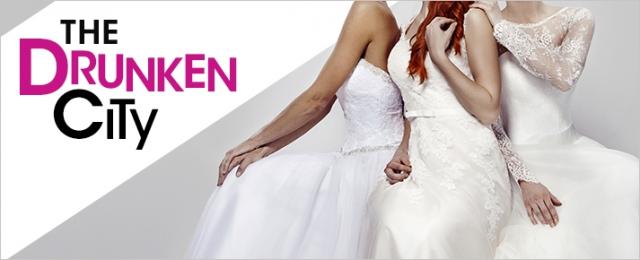 Company/Producers:
Florida State University - Asolo Conservatory
Theater:
Florida State University Center for the Performing Arts - Cook Theater
Review:
Before the curtain, three gal pals alternate between posing in their flowery pastel, swishy skirted dresses and speaking when displaying pictures of the guys they're engaged to marry. They're giggly. They're warned: Don't go into the Big City. But they have apparently done so, and a play in flashback shows their drunken adventure there.
The curtain opens on a gray city wall bearing psychedelic paintings and graffiti: "Be Happy -- Drink -- Crying is OK." These set the tone of banter between Frank (Nolan Fizgerald Hennelly, disheartened but soon to show strength) and his pal Eddie (Christopher Carlson, a considerate, consoling type). Frank's just been dropped by his girl because, he says, he "didn't listen to her." Eddie tap dances. It's a message to not be unhappy and just enjoy being drunk.
Entering from a drunken celebration of the engagement of Marnie (lively Mary Ellen Everett, obviously a leader), for which the other two girls are supposed to be bridesmaids, they meet the guys. In short order Frank is kissing Marnie, she's returning his kiss, and then Melissa (Kedren Spencer, strong and bossy) picks a fight with him. But Marnie and Frank continue kissing, even as Melissa and Linda (Colleen Lafeber, unsure of herself and given to questioning and complaint) try to re-establish the wedding plans Marnie had earlier and their place in them.
Bob (normal Anthony J. Hamilton, calming while caring) finds the group "all drunk" and tries to get them to recognize they're "being crazy." He gets Eddie to tap. Marnie seems to want to change her wedding plans. Linda leads a charge of wanting her to keep her promise. From then on, there's a spate of rejections by and of the characters along with formation of new romantic and friendly liaisons. Everyone — especially Linda who wants to "start over" b— more soberly faces change.
Adam Bock may well have written his play with the hope it will have a long run on the college and university circuit. It brings today's attitudes and problems of young people to attention and speaks soberly through drunkenness. Director Jesse Jou obviously wanted the message to come through subtly, though it's delivered like farce.
At FSU/Asolo Conservatory, however, the actors in the play exceed the artfulness of the author. He's stretched out the romantic meeting of Frank and Marnie and Linda's despairing speeches as if he were trying to maximize a good-enough shorter play to avoid having it on a traditional one-act double bill. Still, it is ideal for honing skills of students of acting. Playing drunk is difficult. Here it doesn't seem like playing and everyone can be distinctly heard.
All the technical needs are well met. The costumes certainly add humor to the two opening scenes. No choreographer is mentioned for the few tap steps demonstrated, but they are effective.
Cast:
Mary Ellen Everett, Colleen Lafeber, Kedren Spencer, Christopher Carlson, Nolan Fitzgerald Hennelly, Anthony J. Hamilton; Pianist: Darren Server
Technical:
Music: Darren Server. Set & Lighting: Chris McVicker; Costumes: Becki Leigh; Sound: Rew Tippin; Movement: Eliza Ladd; Vocal Coach: Patrica Delorey; Fight Director: Brett Mack; Production Stage Mgr.: Devon Muko;