Images: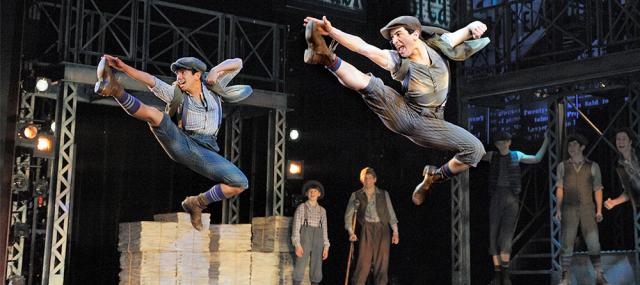 Company/Producers:
Disney Theatrical Productions; Based on Pasadena Playhouse Production of 2011 (ditigal film in cinema)
Theater:
Regal Hollywood 20 cinema
Review:
With its story based on the New York City Newsboys' Strike of 1899, Newsies rings with an involving dramatic authenticity that music and dancing make doubly appealing. The show, based on a (then) little-known Walt Disney film, achieved great acclaim in NYC and touring. It's this version, produced by Disney and distributed by Fathom Events, that captures the importance of a historic strike while highlighting chief personalities involved. It's also unabashedly celebratory and romantic.
Charismatic Jeremy Jordan as Jack Kelly sets the scene as a family-less, basically homeless Newsie and supportive friend of sweet Andrew Keenan-Bolger's upbeat-though-crippled Crutchie. They have to buy the papers they sell for basic sustenance. On the opening morning they discover Joseph Pulitzer (Steve Blanchard, stern and selfish) is raising their prices. This is the inciting incident for all that follows — a clash with Pulitzer and his minions (paper distributors and scabs), a union of homeless Newsies with those who aren't (led by Ben Frankhauser's effective Davy and young brother), a strike, and finally formation of a union that extends to previously exploited workers like the Newsies.
In the struggles that lead to the union, Jack falls in love with a reporter for a Pulitzer paper rival who strongly supports him and the cause. Their love songs are a treat. Kara Lindsay's beguiling Katherine Plummer will reveal a secret that promises to eventually crucially help the Newsies. Also helping the boys is a prominent theater owner and performer (Aisha de Haas's dynamic Medda Larekaon).
Before the drama ends, Crutchie's what-amounts-to-incarceration in what should be social service housing exposes the greedy man and followers who have profited from providing deplorable conditions. Jack will be a leader in a new order and also use his artistic talents. All who helped him join in celebration — especially Newsies from greater NYC in a dance (featuring the talented Ben Cook as Race) that sums up the musical's emphasis on spirited choreography.
Stage director Jeff Calhoun's choreographic experience is evident in his blocking of the dramatic elements. They benefit from a clever set that shows the urban background, a network of metal bridges that often meld into cages that hold the private dealings of the cast or can be a dirty dormitory, and a downstage area that can move from a newspaper distribution center to a cavernous basement room to Pulitizer's office.
Technical elements are all up to Disney's considerable standards. At Regal Hollywood 20, however, the sound system delivers too-low dialogue. Previews and pre-show trivia are broadcast louder than the filmed play itself. This is a continuing problem I've encountered in Fathom Productions at this theater, no matter what auditorium is being used. It does not occur with regular movies here, so it seems the producers might look into the soundtracks they distribute. Productions like Newsies deserve such attention.
Cast:
Jeremy Jordan (Jack Kelly); Kara Lindsay (Katherine Plummer); Andrew Keenan-Bolger (Crutchie); Ben Frankhauser (Davy); Ben Cook (Racy); Aisha de Haas (Medda Larkson); Steve Blanchard (Joseph Pulitzer); Ensemble
Technical:
Set: Toben Ost; Costumes: Jess Goldstein; Lighting: Jeff Crotier; Sound: Randy Haner
Miscellaneous:
I have admired Jeremy Jordan's work in Sarasota on the Asolo Rep stage. Happily, his acting, singing, and good looks come over as well on film.