Images: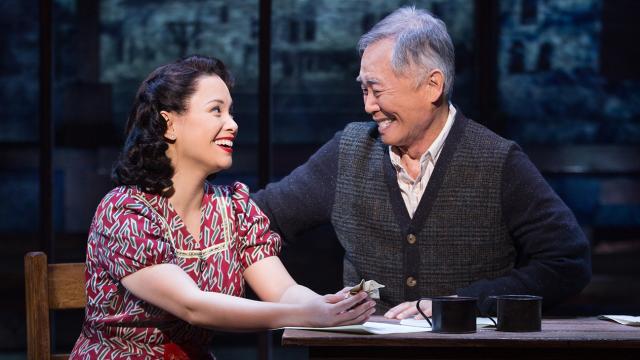 Company/Producers:
Fathom Events (digital broadcast to movie theater)
Theater:
Regal Hollywood 20 cinema
Review:
On a Japanese-American Day of Remembrance and the 75th anniversary of the Presidential Executive Order 9066, a special Encore of the Broadway performance of Allegiance came electronically to select American theaters and, at the one in Sarasota, strongly engaged the audience. The Order evacuated Japanese Americans, like the dramatized Kimura family of farmers, from their West Coast homes to a hellish internment camp. Suspected as possible enemies after Pearl Harbor, they lost their homes, possessions, rights, and their dignity as American citizens.
The drama begins and ends with Sam Kimura, now an old man (winning George Takei), in the U. S. Army uniform he still fits in and is called upon to wear each year in a veterans' celebration. He has garnered a chest full of medals in WW II, Korea, Viet Nam and peace-time service. All remind him of life with his sister Kei (Lea Salonga, appealing and in glorious voice) on his father Tatsuo's prosperous farm, and the aftermath of the Executive Order, next presented in flashback.
At that fatal time, Tatsuo (Christopheren Nomero, stern and forceful) had reaped a fine harvest, for which he was receiving top dollar. His son Sammy (Telly Leung,handsome, intelligent ) had come from college, but his A- in difficult studies fell short of his father's extreme wishes. His other son was gone. His daughter Kei was unwed and getting older. Now soldiers came to deprive them all of their living.
Most of the story takes place in the terrible internment camp. Those interned never get either freed or alleviation of their horrible conditions because their representative in Washington (Greg Watanabe's Mike Massarka, rightly shown as weak) is ineffectual.
Meanwhile, Sammy and the camp nurse Hannah (Katie Rose Clarke, blonde, beautiful, helpful) fall in love and Kei is wooed by a law student and rebel, Michael K. Lee's forceful Frankie Suzuki.
When the men in camp are recruited into a suicide battalion to prove their loyalty to America and everyone is asked to fill out a loyalty questionnaire, Frankie organizes against both. He clashes with Sammy who goes to war and becomes a feted hero. That at least releases his father from a prison he was sent to for railing against the questionnaire. However, in the camp, a soldier accidentally shoots Hannah fatally. In addition, the kind Kimura grandfather (Takei, impressively doubling) dies of a heart attack.
After victory and a shameful expulsion of the Japanese Americans from internment, the former prisoners begin new lives. The Kimura family does so in San Francisco. It is not what Sammy wanted to come home to, but all works out in a distant end, with the appearance to him in his old age and uniform of his niece, Kei and Frankie's daughter. As with every other phase of the story, a musical celebration is glorious.
The set cleverly undergoes many changes simply as empty screens, reminiscent of Japanese houses, slide across the stage to introduce new locales. Costumes and hair styles are authentic throughout. All the songs occur naturally and express not only the singers' emotions but the characters' situations, especially the harsh ones in the camp. Dances — especially a fun jitterbug — are appropriate.
I was seated next to a woman who was seeing this Fathom Event for the second time. She liked it so well that, when her daughter visited over the Presidents Day weekend, the mother took her to see it. They told me they wouldn't mind seeing the show yet again. I must say I agree with them. It also seems to me to present a strong parallel with what could happen today with Executive Orders that can be unjust and harmful to both individuals and especially families. The show's timely and timeless.
Cast:
George Takei, Lea Salonga, Telly Leung, Michael K. Lee, Katie Rose Clarke, Christopheren Nomero, Greg Watanabe and Ensemble
Technical:
Sets: Donyale Werle; Costumes: Alejo Vietti; Sound: Kai Harada; Wigs, Hair: Charles G. Lapointe; Fight Director: Thomas Scholl; Projections: Darrell Maloney
Miscellaneous:
Discussion was provided after the show, as was the web address to which audience members could contribute comments.