Images: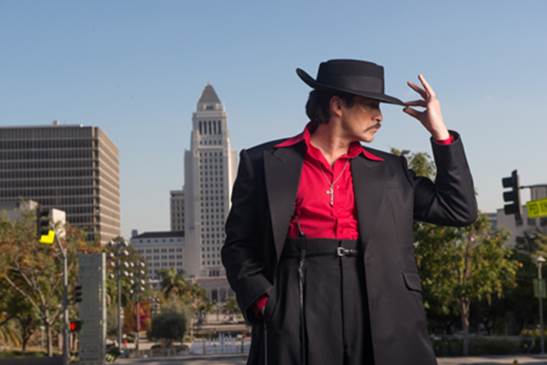 Company/Producers:
Center Theater Group & El Teatro Campesino
Review:
Thirty-nine years after its world premiere at the Mark Taper Forum, Zoot Suit has been revived in a gaudy, brash, slick production at the same theater. Written and directed by Luis Valdez, founder of a Chicano theatre group which at one time was the cultural arm of the United Farm Workers, Zoot Suit was a break-through event in American theater, one that put Chicano history on a mainstage for the first time. The play became a major hit not only in L.A. and New York but around the world.
Based on the Sleepy Lagoon Murder, code name for the death of a young Angeleno whose body was found at a reservoir in 1942, Zoot Suit dramatizes the trial of 21 Chicanos who were wrongly accused of being involved in the crime. Railroaded by a corrupt court, the young men were sent to prison, an act that later triggered Zoot Suit riots between U.S. servicemen and local Latino youths.
The zoot suit, an emblem of barrio bravado mixed with extravagant style, is worn proudly by El Pachuco (Demian Bichir), the main character and guiding light of the play. Part tempter, part storyteller, part Mephistophelian devil, El Pachuco swaggers in and out of the action, commenting on it in English and Spanish. His witty, bawdy quips do more than just entertain; they give insight into the conflicts and complexities of the story, define its history and meaning.
Zoot Suit confronts racism in the USA head-on by following the story of Henry Rena (Matias Ponce), one of the youngsters accused of murder. We meet his family, friends, fellow gang members and prisoners–-and the two Anglos who are fighting to free him: the lawyer George Shearer (Brian Abraham) and the journalist Alice Bloomfield (Tiffany Dupont). While this narrative unspools, the world of the play sometimes bursts into song and dance (to the beat of such period hits as "Perdido," "Vamos a Bailar" and "Bugle Call Rag").
A further complication is a love triangle comprising hot-headed Henry, his barrio girlfriend Della (Jeanine Mason), and the lefty reporter Alice.
Valdez writes and directs these people with a heavy hand: just about every line is shouted, every move made large. Caricatures abound in here: the Anglo cops, judges and servicemen are all sneering, snarling Chicano-hating beasts. The agit-prop origins of Zoot Suit (El Teatro Campesino began its life by performing for workers in the California farm fields) are all-too obvious, but fortunately the spirit and relevance of the play — plus its many marvelous performances, especially Bichir's — carry the day and make it worth seeing.
Technical:
Music Dir: Daniel Valdez. Set: Christopher Acebo. Sound: Philip G. Allen. Cost: Ann Closs-Farley. Light: Pablo Santiago.