Images: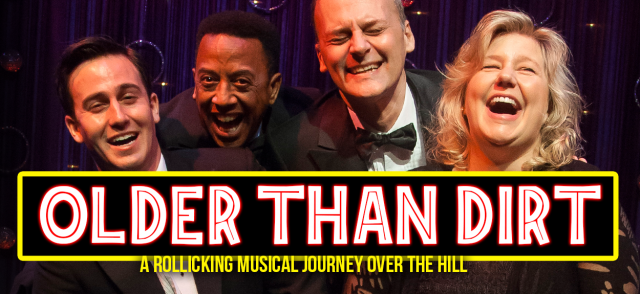 Theater:
Florida Studio Theater - Court Cabaret
Review:
Maybe the best possible tribute to give to the developers and performers of Older than Dirt is that they're younger than most of their audience but can often pass themselves off as one of them. Sarasota, as projections remind, is known as "God's Waiting Room" but those waiting yet watching seem to enjoy being kidded via clever portrayals and parodies.
In FST's Court Cabaret, "This Joint is Poppin'" right from the start in song and dance by a frolicking four who soon advise "Don't Be Ashamed of Your Age." Next "Do You Remember These?" calls attention to projected old, often musical ads for products like Pepsi, Tutti Fruitee, and cigarettes. A lively (well, as lively as oldsters can manage) "Methuselah Rock" and "Remember Song" lead into the first of three skits by Rebecca Hopkins that take place throughout in "The Park" where acquaintances meet to exchange their medical reports.

Funny old Richie McCall usually meets up with slightly younger William Selby, as in Nick Santa Maria's "The Grunting Waltz" (that shouldn't need an explanation) or in Rebecca Hopkins's second Park skit, where Richie decries that prescribed Viagra didn't mix well with Metamucil. On his own, how Richie's indignation is expressed in "The Husband Song" shouldn't faze his wife a bit!
Emily Mikesell gives solo advice on the secret to a long marriage. She wishes she had known it back in the West when a rival bested her. As Emily sings, "She Got the Gold Mine (I Got the Shaft)." Emily also stars in "Beauty and Deceased" that parodies Disney. In Act 2, she sings a mean "Grandmother's Song" (written by Steve Martin} and weaves nicely in and out of the guys' numbers.
Act 2's opening adapts "The Age of Aquarius" to be that of "Urology" with the whole cast as hilarious hippies, who will age thereafter. Youngster Dane Becker glibly hawks "Geezco Insurance" (by Rebecca) with a discount so easy to get that even a geezer can get it. William Selby, in a bathrobe, calls in the rest of the group to bring up a subject he "can't talk about....so we'll sing it." "Diarrhea/Super Pooper" keys in a spate of fecal humor.
Final numbers intersperse "Park" material like Richie and William's problems with gravity and Father Time, shown in great gestures, with aged Emily glorying in not having peer pressures. "Reef Stricken" doesn't avoid the subject of death but, as William reminds cheerfully, "You are younger right now than you'll ever be again." So, as all in formal dress advise, "Enjoy Yourself (It's Later Than You Think)" and "Don't Be Ashamed of Your Age."
I always look forward to FST's "Laughing Matters" revues, and once again, I'm not disappointed. The writers, old and new, provide a fun time, nicely arranged by director Richard Hopkins. Jim Prosser at the piano is always a treat, too, and for this show well directed by Darren Server. There's more dancing than I recall from the first four revues in the series; it's all appropriately choreographed by Kathryn Gasper.
A nice wedding of talents to theme!
Cast:
Dane Becker, Richie McCall, Emily Mikesell, William Selby; Pianist: Jim Prosser
Technical:
Costumes: Susan Angermann. Lighting: Thom Beaulieu. Sound: Toby Algya