Company/Producers:
Kevin McCollum, Robyn Goodman, Jeffrey Seller, Vineyard Theater (Douglas Aibel, art dir) www.vineyardtheatre.org. & The New Group (Scott Elliott, art dir; Geoffrey Rich, exec dir);
Theater:
John Golden (moved to off-Broadway's New World Stages)
Review:
The message of TV's "Sesame Street," tucked in amid the array of alpha-numerical lesson plans, is that, despite the occasional obstacle, "everything's a-ok." While its multi-ethnic casts, resident grouch and human- monster interactions hint at a world of diversity and occasional miscommunication, the Children's Television Workshop nonetheless concocts an inviting urban landscape, full of "friendly neighbors" with their doors open wide to "happy people like you."
Like this reviewer, the creators of Avenue Q grew up wanting that world to be true, only to discover that if you're happy only some of the time, and your neighbors are tolerable most of the time, and your relationships work half the time, then you're ahead of the game. Rather than directly spoof Jim Henson's iconic muppets, the Avenue Q team and puppeteer Rick Lyon wisely devised their own array of creations, including: a closeted, uptight Republican and a messy free-spirit who resemble Bert and Ernie just enough to play on all the subtext we've ascribed to those two over the years; a pair of "Bad Ideas" Bears who must be the evil twins of "Duckman"'s Fluffy and Uranus; and a sweetly- likeable, single-female monster (Stephanie D'Abruzzo) who's the one new character that actually ought to be on "Sesame Street."
As all these characters dwell in a New York tenement that's even lower than the Lower East Side, they discover, in song, such life lessons as "Everyone's a Little Bit Racist," the importance of "Schadenfreunde," and the internet being a wonderful place ("for porn!"). Somehow, despite all the moments of shock value (profanity, sim sex), the show maintains much of the breezy charm of its inspiration, as well as the "we're all in this mess together" spirit that imbued some of the best recent tuners (e.g., Falsettoland, A Class Act). Q may not be the Park Avenue of musicals, but it's an address well worth a mirthful visit.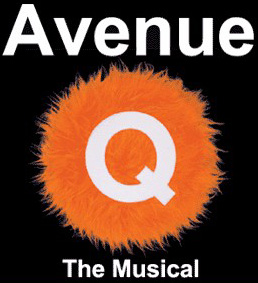 Parental:
profanity, strong sexual themes, adult themes, alcohol use
Cast:
Jennifer Barnhart, Ann Harada, Natalie Venetia Belcon, Jordan Gelber, Stephanie D'Abruzzo, Rick Lyon, John Tartaglia
Technical:
Puppets: Rick Lyon; Choreog: Ken Roberson; Music Sup: Stephen Oremus; Set: Anna Louizos; Costumes: Mirena Rada, Rsthetic, Inc.; Lighting: Howell Binkley; Sound: Acme Sound Partners; Music Dir/Incidental Music: Gary Adler. Casting: Cindy Tolan
Other Critics:
PERFORMING ARTS INSIDER Richmond Shepard !