Images: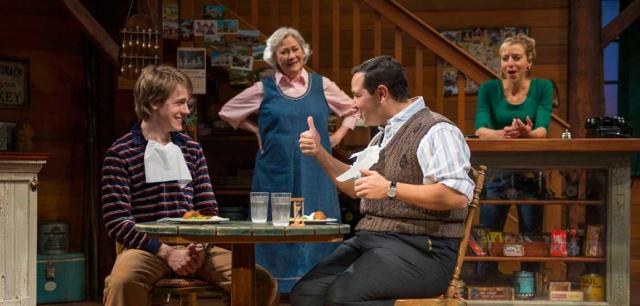 Company/Producers:
Milwaukee Repertory Theater
Theater:
Milwaukee Repertory Theater - Quadracci Powerhouse
Review:
Plays typically don't age like fine wine but, surprisingly, this seems to be the case with the Milwaukee Repertory Theater's signature comedy, The Foreigner, by the late Rep playwright/actor Larry Shue. Or perhaps the credit for this thoroughly entertaining production goes to Director Laura Gordon, who takes a restrained approach to some of the play's more outrageous scenes.
The Foreigner was written in the 1980s by then-company cast member Larry Shue, who played Charlie (the foreigner) in the original Rep cast. It was such a hit that a 1984 production at New York City's Astor Place earned a pair of Obie Awards and two Outer Critics Circle Awards. Again, Shue played the role of Charlie. Its most recent New York revival was a 2004 production by Roundabout Theatre Company. The show, starring Matthew Broderick, played at Off-Broadway's Laura Pels Theater.
The play's incredibly complex set-up pays off in non-stop laughter almost from the beginning. The setting is a rural Georgia fishing lodge, run by the middle-aged Betty (by the always memorable Linda Stephens). Froggy, a staff sergeant and longtime friend of Betty's, think that his fellow Englishman, Charlie, needs a respite from caring for his dying, hospital-bound wife. The shy Charlie, who works a dead-end job and claims to have "no personality," refuses to talk to anyone in his time of grieving. So Froggy (nicely played by James Pickering) decides to inform Betty that Charlie (Matt Zambrano) is a "foreigner" who doesn't know any English. The naïve Betty is delighted to have such a worldly fellow under her roof. She praises Charlie and strives to please him.
Initially, Charlie overhears a bit too much information from some of the other guests and visitors. They are alarmed until Betty reveals that Charlie doesn't speak "a word of English." The guests include a former debutante (Cristina Panfilio), her slow-witted younger brother (Brendan Meyer), and her fiancé, the tall, handsome Rev. David Marshall Lee (Marcus Truschinski). The pastor's historical link to the name "Lee" foretells a historical tie that comes to light in the second act. Lee's secret confederate (Eric Parks in an amazing performance as the redneck Owen) vows to help him chase all non-white Christian folks (including foreigners) out of Georgia.
While this may sound incredibly timely in terms of the recent U.S. presidential election, the play unwittingly defers to trusting those who are unlike ourselves. The soft-spoken Charlie cleverly encourages Betty and the sister-brother team to gain confidence and move toward their full potential.
Meantime, Charlie also has a bit of fun by denigrating the reverend and the explosive Owen. Since the audience is "in on the joke" (i.e., Charlie speaks English), we cannot do more than laugh helplessly as events play out in this crazy comedy. As Betty revels in having a "foreigner" for a guest, she also sees new hope in the future of this rundown lodge. Oh, if only this sentiment was shared among audiences who could learn to embrace immigrants instead of fearing them.
The production values are exceptionally strong, with the centerpiece being the towering lodge set created by Bill Clarke. It is authentic in every respect, from the muskies and other prize fish mounted on the walls, to the dozens of postcards from former guests tacked near the reception desk. In a sitting area by the fireplace, the well-worn, out-of-style couches even have sagging cushions.
Cast:
Matt Zambrano (Charlie); James Pickering (Froggy LeSeuer); Linda Stephens (Betty); Cristina Panfilio (Catherine Simms); Brendan Meyer (Ellard Simms); Marcus Truschinski (Rev. David Marshall Lee); Eric Parks (Owen Musser)
Technical:
Set: Bill Clarke; Costumes: Rachel Laritz; Lighting: Jason Fassl; Sound: Joe Cerqua.