Images: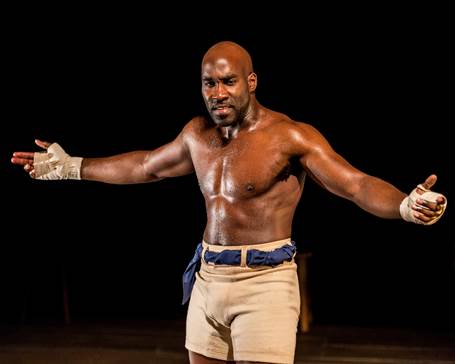 Company/Producers:
Milwaukee Repertory Theater
Theater:
Milwaukee Repertory Theater - Stiemke Studio
Review:
Young Milwaukee audiences who can't recall the early days of this century and the furor over African-American boxer Jack Johnson's match with a white heavyweight champion will certainly be familiar with the notion of race riots that Johnson's victory caused. The Royale opens at Milwaukee Repertory Theater just weeks after the city was involved in a racially charged night of shooting, looting, and arson following the fatal police shooting of a black man. Months later, questions remain unanswered about what really happened that night, causing a murmur of unrest to ripple through a predominately black section of Milwaukee.
The Royale is a new play by Marco Ramirez, who has written for several hit TV series. It opened Off Broadway in March at Lincoln Center Theater, earning mostly positive reviews.
One can say no less about Milwaukee's fine production. Director Kevin Ramsey leads a dream cast which stars the galvanizing David St. Louis. His character loosely follows the life of Jack Johnson, although here he is called Jay "The Sport" Jackson. He fits the role both physically and emotionally of a boxer in his prime. His greased six-pack abs, sinewy arms, and good looks make him easy-on-the-eyes as well as credible. The script shows that Jackson can be brash and bombastic, or sensitive and tender. St. Louis gives the necessary depth to this multi-faced character.
As Jackson makes his way to the top of his profession, he is aided by Max, a somewhat shifty promoter (an excellent John Gregorio) and a veteran coach (Cedric Turner, who turns in a remarkable performance as Wynton).
Like the real-life boxer, Jackson has a taste for the finer things in life. But in this "Jim Crow" era in the early years of the 20th Century, that characteristic does not come cheap for blacks. For instance, Max complains about having to "grease the palms" of hotel clerks to get Jackson booked into all-white hotels. The script also notes that boxing is one of the few sports in those days that admitted African-Americans. Baseball, football, and other major sports were closed to black players.
The play's highly theatrical boxing matches do not show boxers actually pummeling each other. Instead, one finds a brilliantly heightened combination of lighting, sound and movements. Both boxers face the audience for the entire match. (The minimal but sufficient set by Scott Davis is laid out like a boxing ring.) A series of percussive claps and stomps indicate punches thrown, with the boxer on the receiving end jolting back as if actually hit. Lighting, too, plays an important role in these fight sequences (kudos to Thom Weaver).
When it's still uncertain whether the white heavyweight champ can be coaxed out of retirement for the match, Max proclaims: "This country's been waiting for this fight, whether they like it or not." Audiences must keep in mind that the play's timeframe was about a half-century after the end of the Civil War.
St. Louis demonstrates both the "external" side of Jackson (as presented to newspaper reporters) as well as his internal struggles, which are prompted by the sudden, late arrival of Jackson's older sister, the solemn Nina (effectively played by Sade' E. Moore). She ironically reminds her brother of the losses "Negroes" will suffer around the country if he happens to win. Already, she notes, a couple of scrappy black men who argued violently with some white men over the upcoming match ended up being lynched the next evening.
Jackson is not oblivious to this situation. His fears for his family's safety prevent him from revealing his hometown. But the danger is even closer than he thinks. Right before the match, he learns that, at his past boxing matches, guns were seized at the door from white men. It becomes clear that the personal risk to Jackson outweighs the professional one.
Some of the play's more humorous aspects are provided by a young, fledgling boxer, Fish (Xavier Scott Evans). With no formal training in the sport, a terrified Fish faces the famous Jackson in the ring. Afterwards, when Jackson is about to offer him a job, the bruised and limping Fish is adamant that he "has had enough of Jackson for one day." However, Fish is eventually convinced to join Jackson as a sparring partner. The good-hearted Fish saves his pay to buy an expensive gift for Jackson, which he presents on the eve of the momentous match. Fish tells him that the gift's extravagant cost should please his taste for fine things. This gesture reveals a moment of softness on Jackson's part during the most important day of his career.
Like many plays before it, The Royale uses the metaphor of sport to tackle larger issues in American culture. The Milwaukee Repertory Theater's excellent production keeps the audience on the edge of their seats as a talented black man strives to find equality in a milieu dominated by whites.
Cast:
David St. Louis (Jay "The Sport" Jackson); Cedric Turner (Wynton); John Gregorio (Max); Xavier Scott Evans (Fish); Sade' E. Moore (Nina).
Technical:
Set: Scott Davis; Costumes: Alison Siple; Lighting: Thom Weaver; Sound: Josh Schmidt.