Images: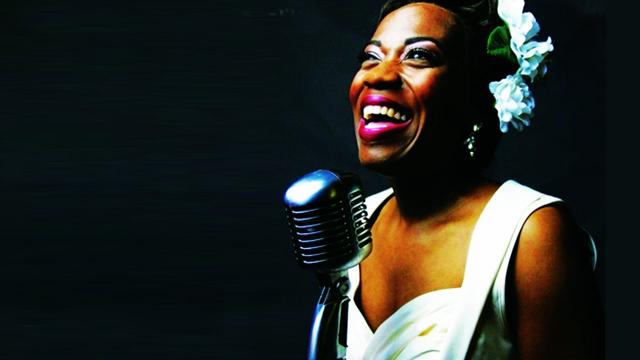 Company/Producers:
Milwaukee Repertory Theater
Theater:
Milwaukee Repertory Theater - Stackner Cabaret
Review:
For those who were born too late to encounter the real-life jazz singer Billie Holiday, Lady Day at Emerson's Bar & Grill is a terrific recreation of one of Holiday's final appearances. The cast includes only two people: Holiday (Alexis J. Roston), who sings onstage in a small, run-down Philadelphia nightclub, and her current watchdog and pianist, Jimmy Powers (Abdul Hamid Royal). And yet, through her recounting many anecdotes from the past, Holiday brings to life many people who influenced her: her parents, her first husband, some of the bandleaders who started her career, and other backstage players who contributed (good and bad) to Holiday's career.
New York audiences will recall Audra McDonald's limited Broadway run of the show in 2014, which won her another Tony Award. McDonald subverted her own beautiful voice to sing in the distinctive way Billie Holiday once did. In Milwaukee, Alexis J. Roston does the same.
In the role of Billie, both women wear long white gowns styled for the 1950s. In Milwaukee, Roston stands on a small, dark stage, barely big enough for her and the piano.
The set's concrete block walls and glass block window give the place a "downstairs" feeling. Through brilliant lighting effects, the colors of Holiday's world seem to bloom and fade through the glass wall and also from the edges of the stage.
From her first sad, slow ballad through the hits that made her famous, Roston impresses with her spectacular voice. In a break between songs, she admits that Philadelphia isn't her favorite town. It was where she was arrested for drug possession and charged with a felony. "When I die, I don't care if I go to heaven or hell," she tells her audience. "Long as it ain't Philly."
Such examples of rueful humor are interspersed with some of the racist attitudes and behaviors Holiday encountered on her rise to the top. Thankfully, band leaders such as Benny Goodman, Artie Shaw, and Count Basie rose to her defense when she was the band's singer.
Roston is a good storyteller: the time that Artie Shaw's entire band ate in the kitchen of an all-white restaurant (since Holiday wasn't welcome up front) is one of the show's humorous highlights.
She was dubbed "Lady Day" by a jazz saxophonist. The title stuck, and Holiday wore her nickname proudly. However, the elevated title didn't dissuade Holiday from using profanity throughout her performance at Emerson's. Audience members with tender ears won't be thrilled by Holiday's coarseness. It may have been something Billie picked up on her tough road to fame.
In between songs, Holiday gulps from a glass of booze that she refills as necessary. Perhaps the "liquid courage" encourages her to tell her story. Perhaps it's to ward off the DTs (delirium tremens). Or perhaps it helps her to forget the past, as she sings, "God Bless the Child" (which she co-wrote in 1941), "Strange Fruit," "What a Little Moonlight Can Do," and "Crazy He Calls Me."
Although it wasn't included in the show, it's interesting to note that her rendition of "Strange Fruit," which began as a poem about a lynching, almost wasn't recorded at all. Columbia Records, Holiday's recording studio, refused to release the song for fear of reprisals from the South. As a result, Holiday was allowed to break her contract just once – to record "Strange Fruit" for another label. The song sold thousands of copies, and Holiday's musical influence -- captured in her many recordings - resulted in many Grammy Awards.
Holiday's tough perseverance against the odds may have kept her from sobriety. In later years (she died at 44), her body (including her vocal chords) was severely impacted by her drug and alcohol use. While singing at Emerson's, she tries to steady herself a number of times. At one point, she strides offstage, and her pianist (a terrific Abdul Hamid Royal) announces a brief intermission. Following intermission, Powers does a fantastic instrumental version of "Ain't Nobody's Business If I Do." Then he slides into the shadows again as the drowsy Billie returns to the stage. One of her elbow-length gloves has slid down, exposing telltale marks on her inner arm.
The fascinating blend of historical events in Billy Holiday's life and her powerful delivery of the songs that made her a star packs a wallop. This "tribute" to a woman who broke gender and race barriers could have turned out musty and flat. Instead, Billie Holiday's voice – recreated by the talented Alexis J. Roston – remains an unmatched pleasure to hear.
Cast:
Alexis J. Roston (Billie Holiday); Abdul Hamid Royal (Jimmy Powers).
Technical:
: Set: J. Michael Griggs; Costumes: Jason Orlenko; Lighting: Christine Binder; Sound: Victoria Deiorio.