Images: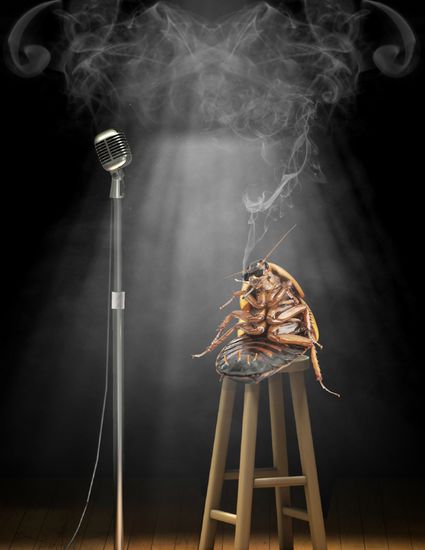 Theater Address:
6476 Santa Monica Boulevard
Review:
Franz Kafka meets Nathanael West in Cockroach Dialogues, William Whitehurst's black comedy now running at the 2016 Hollywood Fringe Festival. Hollywood is the setting – and the target – of this one-act play, which centers on Wayne (Mark Binet) and Tea (Kate Poisson), two young, impoverished performers trying to make it in the entertainment capitol of the world.
The fight for success, which wannabe actor Wayne describes as "a couple of greyhounds chasing a rabbit...which turns out to be tin," has taken its toll. Tea (a pop singer) is ready to quit the chase and go back to their small-town home where she has a garden and a measure of peace. Wayne, though, is too driven and stubborn to give up just yet; he has an audition for a sitcom which could – make that, will - -lead to an offer of a job...and stardom.
Trouble is, Wayne has been haunted lately by a giant cockroach (Demetris Hartman in a sensationally surreal insect costume). The roach appears before him, night and day, like an avenging angel, taunting him unmercifully, crawling all over him, driving him nuts. No amount of bug spray can kill him, either.
Then a glimmer of hope penetrates all this darkness; Tea, while singing "Pacific Highway" in a shabby cabaret, is discovered by Bob (Jay Lawrence Kiman), head honcho at Archangel Records. The cigar-chomping, pompous music executive not only loves her voice but her "silence and pain." He promises to make her the next Lady Gaga.
It would be giving away too much to describe what follows; suffice to say that the story gets even darker than before, leaving pools of blood on the floor. Whitehurst's portrait of Hollywood is about as savage and uncompromising as any I've ever seen.
Cast:
Mark Binet, Demetris Hartman, Jay Lawrence Kiman, Kate Poisson
Technical:
Costumes: Jeryd Pojawa; Devised Workshops: Nika Khitrova; Graphic Art: Darren Lacy; Music: Robert Gross; Lyrics: William Whitehurst; Backing Vocals: Sariyah; Music Production: Andy McQuade