Images: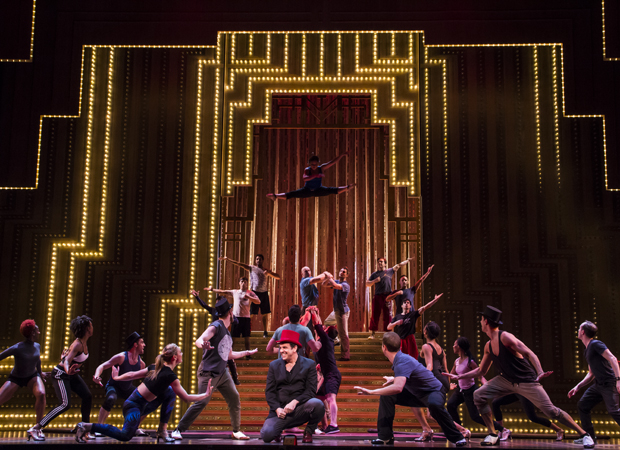 Choreographer:
Shana Carroll & Daphne Mauger
Review:
No doubt about it; there are times Paramour does seem like a three ring circus, and it's tough to know where to look. On the one hand, you have a classic romantic triangle, set against the background of grand old movie musicals. On the other, you have the daredevil excitement of classic Cirque du Soleil, including breathtaking acts of tumbling, high flying, and juggling.
In best 42nd Street fashion, Indigo is a simple girl from Indiana; she has bright red hair, a gorgeous silver gown, and as played by Ruby Lewis, enough spunk to go out there and be a star many times over. Lewis also has an unexpectedly strong and deep voice; no wimpy soprano trilling for this songbird. She works with piano player/songwriter Joey (Ryan Vona), who is, quite naturally, in love with her. Indigo has strong feelings for him, too, but she wants so much more out of life than a humdrum everyday existence. Enter impresario AJ (Jeremy Kushnier), a movie director who finds what he's looking for and promises to make Indigo famous and adored. Indigo promises to marry AJ, because she knows it will be good for the film -- AJ insists on this term -- they're making together. But her heart belongs to Joey.
Indigo's task is to bring to life famous heroines from early movies like "Gone With The Wind" and "The Blue Angel." The posters are splashed all over the luscious set, which is housed in an Art Deco dream of a theater. (Incongruously, Indigo stands at the top of a staircase as Cleopatra. This is totally from the wrong time period, but just go with it.) Cleo is being presented with a gift, twins (Andrew and Kevin Atherton) with bleached hair who perform a somewhat disturbing intertwining act, balancing and supporting each other in one feat after another of strength and daring. Their performance is strangely erotic and totally captivating. The trampoline chase at the end of the show is equally impressive, even though it goes on a bit too long.
An interesting side note is that this is the first Broadway show to use drones, which float overhead like big colorful lampshades.
There truly are children of all ages enjoying Paramour. The tone is set from the first moment the audience enters the theater; staff members are especially welcoming and helpful. An inordinate amount of food and drink is consumed, and there's even a menu attached to the seats. This is definitely much more a circus tradition than what's usually found on Broadway.
Yes, there's a lot going on, and chances are pretty good you won't catch it all the first time around. But I have a feeling that Paramour is going to be one of those shows aficionados will see again and again. It's that Wicked good.
Cast:
Jeremy Kushnier ( A.J., the director); Ruby Lewis ( Indigo, the starlet); Ryan Vona (Joey, the composer ) Bret Shuford, Sarah Meahl, Kat Cunning,Tom Ammirati, Chelsey Arce, Andrew Atherton, Kevin Atherton, Lee Brearley, Yanelis Brooks, Samuel William Charlton, Martin Charrat, Nate Cooper, Myriam Deraiche, Kyle Driggs, Jeremias Faganel, Amber Brooke Fulljames, Steven Trumon Gray, Tomasz Jadach, Rafal Kaszubowski, Justin Keats, Reed Kelly, Denis Kibenko, Joe McAdam, Raven McRae, Amber J. Merrick, Sheridan Mouawad, Amber Pickens, Justin Prescott, Fletcher Blair Sanchez, Matthieu Sennacherib, Blakely Slaybaugh, Sam Softich, Amiel Soicher, Amber van Wijk, Bruce Weber, Tomasz Wilkosz, Zhengqi Xia (Da Qi)
Technical:
Set: Jean Rabasse, Costume: Philippe Guillotel, Lighting: Patrice Besombes