Days after the Huntington Theater Company severed ties with Boston University, the other shoe has dropped. As part of its expansion, Emerson College--in recent years a major presence in the Boston theater district—bought the historic Colonial Theater on Boylston Street. The performing-arts-based college manages the Majestic Theater.
The venerable Colonial thrived during an era of out-of-town tryouts for Broadway bound productions. The most successful of these shows returned to Boston during regional tours. Only the latter part of that formula remains, with ever more attrition.
For colleges with production facilities, the diminishing bottom line and high costs of maintaining vintage facilities have resulted in a growing sense of liability. Only so many old houses can be maintained.
After remaining dark for many years a languishing vaudeville house, The Modern Theater on Washington Street, was purchased and is programmed by Suffolk University. In an e-mail blast, we compared and contrasted the alliance of the Huntington and Harvard vs. American Repertory Theater and Harvard. I reported that BU has an active theatre program while Harvard does not. By e-mail Kati Mitchell, who handles PR for A.R.T., corrected me "Wrong. Harvard just introduced a new concentration Theater/Dance/Media… finally…"
Under former artistic director Robert Brustein A.R.T. was known for cutting-edge theater that was often hit and miss with audiences. That policy was continued under Robert Woodruff from 2002 to 2007. By then, Harvard was losing money and considered shutting down the Equity theater to focus on academic programming. Under Diane Paulus, A.R.T. has bounced back with award-winning programs more populist than avant-garde. That has resulted in a high percentage of ticket sales as well as accusations that A.R.T. has evolved into a commercial house abandoning the bona fides of the high-art, Brustein/Woodruff legacy.
Increasingly, universities have focused on the bottom line when asked to sustain and subsidize arts programming. In a controversial speech, the former head of the National Endowment for the Arts, Rocco Landesman, suggested that there are more arts facilities and programs than communities are capable of sustaining. In a Darwinian prognosis, he proposed that it is better for a city to have three thriving theater companies than four struggling ones. While there were strong protests against those remarks as inappropriate for the head of the NEA, the kind of nip and tuck that is occurring confirm that his observations were mostly on-target.
Here in the Berkshires, the musical chairs of four theater companies begs questions about what happens when the music stops. Too many companies and arts organizations are tapping into a limited pool of donors. In a consolidation emerging as Berkshire Theater Group, the former Berkshire Theater Festival in Stockbridge took on what many see as a white elephant: the magnificently restored, but difficult-to-program Colonial Theater. It is dark too many nights including during the busy summer season.
The financial challenges of Shakespeare & Company have been widely reported. Within a year, it fired one artistic director, Tony Simotes, and had another one, Rick Dildine, quickly resign. It is presently being run by committee.
On the plus side The Mount, reported on the brink of extinction a few years ago, has now paid off its debt.
Like the Huntington and A.R.T., The Williamstown Theater Festival has a summer program in agreement with an academic institution, Williams College. Overall, W.T.F. is prospering with a solid endowment and strong ticket sales. Going back to the administration of the recently deceased Roger Rees, and before him, the company was faltering. W.T.F. got back on track with the late Nicholas Martin, followed by Jenny Gersten, and this past season under Mandy Greenfield.
This past season (programmed by Greenfield) saw a parade of stars in the Berkshires, but unlike the administrations of Martin and Gersten, nothing from the past summer is moving on to New York. The best bet was A Moon for the Misbegotten, but it received a negative review from the New York Times.
[END]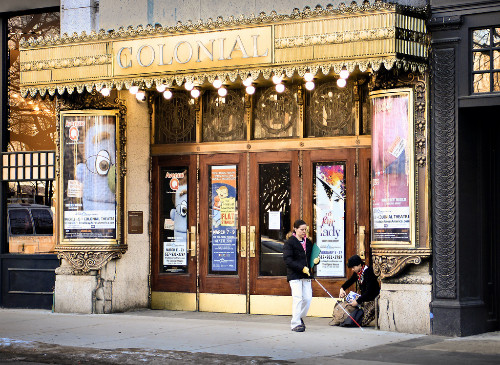 Subtitle:
Changes and Reverberations
Secondary Subjects:
American Repertory Theater, Berkshire Theater Festival, A.R.T.