For the last two decades, I could boast seven theaters located within three blocks of my front door. After the end of this coming season, however, that number will be considerably reduced.
A massive makeover of the Ettleson building at Broadway and Sheridan is displacing a pair of loft spaces housing two of Chicago's foremost pioneering companies: the 28-year-old Strawdog Theater Company will move to as-yet-undecided new quarters in the summer of 2016, while its neighbor around the corner, the Mary-Arrchie Theater Company, will strike its sets after 30 years of operation.
Other reconfigurations on the geographical landscape include the postponed opening of Factory Theater's new home near the Howard Street El station due to city bureaucracy, as well as Timeline Theater coming another step closer to resettling in Andersonville.
With so many changes looming on the horizon, the slate of classic and revival plays scheduled for the fall is comforting. Try these as the weather cools. (Shows with an LGBTQ angle are highlighted with an asterisk (*)):
Bona fide classics:
The Tempest, Chicago Shakespeare Theater, 800 W. Grand Ave. Teller (born Raymond Joseph Teller) and Aaron Posner direct the latter's adaptation of Shakespeare's desert-island fantasy, featuring acrobatics by the Pilobolus Dance troupe, music by Tom Waits and Larry Yando as the ringmaster of a traveling show. (Sept. 17-Nov. 8; www.chicagoshakes.org)
The Seagull, Eclectic Theater at the Athenaeum, 2936 N. Southport Ave. As long as artists and lovers refuse to act on their convictions, those Chekhovian waterfowl will just keep coming. (Oct. 5-Nov. 1; www.eclectic-theatre.com)
Fallen Angels, Remy Bumppo Theater at the Greenhouse, 2257 N. Lincoln Ave. Shannon Cochran directs Noel Coward's roaring-twenties comedy about two home-alone wives anticipating a reunion with the prince that got away. (Nov. 25-Jan. 10; www.remybumppo.org)
*Design for Living, Pride Films and Plays at Rivendell, 5779 N. Ridge Ave. Another Noel Coward threesome, this time a woman and two men who just can't help but love each other—in every way. (Oct. 24-Nov. 22; www.pridefilmsandplays.com)
You Can't Take it with You, Northlight Theatre, 9501 Skokie Blvd. in Skokie. Was Kaufman and Hart's Depression-era comedy a warm family portrait or subversive communist propaganda? Why not see for yourself? (Nov. 6-Dec. 13; www.northlight.org)
The Time of Your Life, Artistic Home, 1376 W. Grand Ave. Shorter and more optimistic than Iceman Cometh, William Saroyan's panoramic picture of an urban saloon during a harsh period in our nation's history displays uncanny foresight into our own time. (Playing through Oct. 25; www.artistichome.com)
The Price, Timeline Theatre at Baird Hall, 615 W. Wellington Ave. Mike Nussbaum, the oldest working actor in America, lends avuncular wisdom to Arthur Miller's drama of estranged brothers dealing with the past. (Playing through Nov. 22; www.timelinetheatre.com)
The Rainmaker, American Blues Theater at the Greenhouse, 2257 N. Lincoln Ave. N. Richard Nash's 1954 romantic comedy features a cast of veteran Chicago actors directed by founding company member Edward Blatchford. (Playing through Sept. 27; www.americanbluestheater.com)
New adaptations based on classics:
After Miss Julie, Strawdog Theatre, 3829 N. Broadway. Patrick Marber's update of Strindberg's 1888 shocker to England in 1945 looks at its economics without ignoring any of the sex. (Playing through Oct. 3; www.strawdog.org)
Treasure Island, Lookingglass Theatre at the Water Works, 821 N. Michigan Ave. Harrr! It's young Jim Herkins in the play that launched a thousand Robert Newton impressions. (Oct. 17-Jan. 31; www.lookingglasstheatre.org)
Miss Buncle's Book, Lifeline Theater, 6912 N. Glenwood Ave. Christina Calvit's adaptation of D.E. Stevenson's proper English tale about a proper English spinster-turned-novelist reunites Peter Greenberg and Jenifer Tyler, aka Chicago's own Nick-and-Nora. (Sept. 21-Nov. 1; www.lifelinetheatre.com)
East of Eden, Steppenwolf Theater, 1650 N. Halsted St. John Steinbeck's sweeping multi-generational saga is brought to the stage by the adapter who engineered The Grapes of Wrath for this same company in 1990. (Sept. 26-Nov. 15; www.steppenwolf.org)
Slightly more recent revivals:
*The Lisbon Traviata, Eclipse Theater at the Athenaeum, 2936 N. Southport Ave. Terrence McNally's play offers us a lesson in why gay men and opera sometimes shouldn't spend too much time together. (Nov. 5-Dec. 13; www.eclipsetheatre.org)
Gem of the Ocean, Court Theatre, 5535 S. Ellis Ave. An ancient clairvoyant and a host of ancestral ghosts introduce this first chapter in August Wilson's ten-play trilogy tracing the history of the African-American experience. (Sept. 19-Oct. 11; www.courttheatre.org)
Barefoot in the Park, Step Up Productions at the Athenaeum, 2936 N. Southport Ave. Neil Simon's 1963 comedy about an uptight corporate husband, his free-spirited wife and their AARP-singles neighbors has lost none of its relevancy in 2015. (Oct. 2-Nov. 1; www.stepupproductions.org)
Marvin's Room, Shattered Globe at Theater Wit, 1229 W. Belmont Ave. Grappling with real-life death didn't stop gay playwright Scott McPherson from laughing in the Grim Reaper's face in this groundbreaking 1990 play. (Oct. 4-Nov. 14; www.theaterwit.org)
Jamaica, Farewell, Hershey Felder Presents at Royal George, 1641 N. Halsted St. If you missed Debra Ehrhardt's irreverent account of the Kingston secretary and the CIA agent when it played in 2012, here's your chance to rectify that mistake. (Playing through Nov. 8; www.jamaicafarewelltheplay.com)
The Madness of Edgar Allan Poe, First Folio Theatre at the Peabody Estate in Oak Brook, 31st St. & Rte. 83. When your theater is a replica-Tudor mansion, it's the perfect opportunity to take audiences on a literary/architectural tour, accompanied by the shivery poems and prose of the original American Gothic. (Sept. 26-Nov. 1; www.firstfolio.org)
And a couple of musicals, too:
*Victor/Victoria and The Producers, Nightblue Performing Arts Company at Stage 773, 1225 W. Belmont Ave. The Lemont-based troupe comes to town with two famous screen-to-stage farces, one by Blake Edwards and the other by Mel Brooks, running in repertory. (Playing through Oct. 10-11; boxoffice@stage773.com)
Oklahoma!, Paramount Theater, 23 E. Galena Blvd in Aurora. This renovated movie palace southwest of Chicago has forged itself a reputation for big-scale musicals Like They Used To, earning it sixteen Jeff nominations this year. (Playing through Oct. 18; boxoffice@paramountarts.com)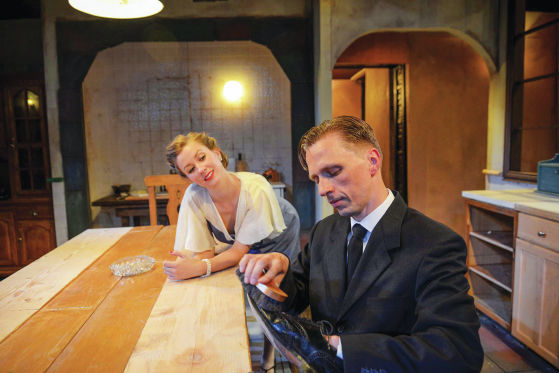 After Miss Julie
Miscellaneous:
This article first appeared in Windy City Times, 9/15
Subtitle:
Classics, revivals offer relief from changes in theater landscape