Post Pride Weekend, HBO will air Jean Carlomusto's "Larry Kramer in Love & Anger" on June 29, 2015 at 9 PM (Eastern). The 82-minute documentary features the trailblazing, often controversial and contentious gay-rights political firebrand and AIDS activist, author, and acclaimed playwright in "an intimate look at the inspiring and sometimes devastating measures taken by him that ultimately saved the lives of millions affected by HIV and AIDS." The telecast almost coincides with Kramer's June 25 80th birthday.
Kramer is a co-founder of the Gay Men's Health Crisis. For years, his voice and pleas for funding as the AIDS crisis were ignored until long after it segued into a full-scale international epidemic, with accusations that he was volatile and irrational. To make his case, in 1987 he unleashed protests from ACT UP (AIDS Coalition to Unleash Power), and made AIDS a national issue, forever changing public health policy.
Kramer has been known simultaneously as egotistic and selfless, angry and inspiring, rude and caring. To his admirers, Kramer is a prophet whose early warnings to the gay community about promiscuity and AIDS now read as eerily prescient.
An official selection at the 2015 Sundance Film Festival, the program is a "warts and all" portrait. Carlomusto, also a producer and cinematographer, details Kramer's troubled relationship with his Jewish family, especially his father who scorned him; the role of his late attorney brother, Arthur, in getting him into therapy after a suicide attempt at Yale in the early '50s (a time of zero gay visibility on campuses); and his time in London during the liberating swinging '60s.
There are Kramer's frank reflections on coming to terms with his sexuality and his career success; and his reminiscences about his life in the midst of battling complications from a liver transplant and a decade of living with HIV.
Carlomusto was given unprecedented access to Kramer in hospital with David Webster, his partner and now husband. There are interviews with GMHC co-founders.
Kramer's calls for direct action were portrayed in The Normal Heart, which premiered in 1985 at the Public. It received an acclaimed 2011 revival on Broadway -- directed by Joel Grey and George C. Wolfe (winning three Tonys and Drama Desk Awards, including Best Revival). The documentary features footage from the HBO Films production. There are also clips from Kramer's Obie and Lortel-winning The Destiny of Me (1992/Circle Rep), a Pulitzer Prize nominee, which focused on the family drama of Normal Heart's Ned Weeks (Kramer's alter ego), who undergoes an experimental treatment for AIDS.
A mostly forgotten fact about Kramer is that he began his writing career in Hollywood as a script doctor. He was Oscar-nominated for his adaptation of D.H. Lawrence's "Women in Love" (1969), a huge art-house hit directed by the avant-garde savant Ken Russell and which featured a way-ahead-of-its-time homoerotic nude wrestling match between screen icons Alan Bates and Oliver Reed.
"The Normal Heart" film, directed by Ryan Murphy ("Glee," "American Crime Story," "American Horror Story," "Nip/Tuck"), won a 2014 Emmy for Outstanding Television Movie and a Golden Globe nomination for Best Mini-Series or Motion Picture Made for Television.
"Larry Kramer in Love & Anger" was co-produced by Ellin Baumel and Shanti Avirgan and edited by Geof Bartz and Gladys Mae Murphy. It features original music by Wendy Blackstone.
Additional airdates for "Larry Kramer in Love & Anger" are July 2 (1:30 AM, July 5 (1:45 PM), July 7 (10 AM, 4:05 A.M., July 8 (6 PM, 12:05 A.M.), July 11 (10:30 AM), July 14 (12:30 PM), and July 25 (5:20 AM). There'll also be playdates on HBO2.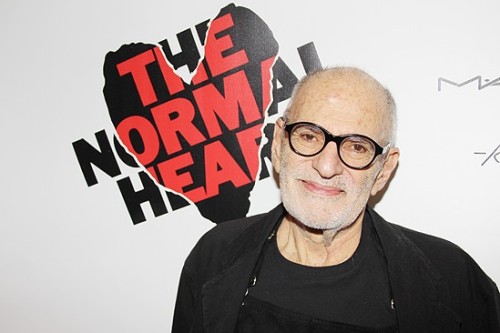 Key Subjects:
Larry Kramer, The Normal Heart.
Subtitle:
A Documentary in Time for Pride Weekend